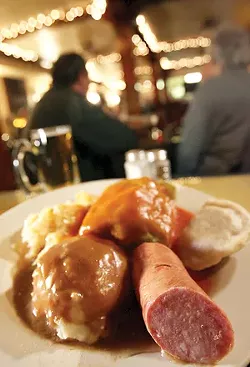 Digging into a big plate at Hamtramck's Polish Village Café might have you suppose you're eating food prepared by somebody's Polish mother. That's because, essentially, you are. Walk toward the back of this basement restaurant, which was once a cellar beer garden for a 31-room hotel, and you'll find a busy kitchen filled mostly with middle-aged female cooks and the intoxicating odors of hearty, satisfying, slow-cooked food.
This place is no secret, though. During peak dining hours there's a steady flow of waiting customers first lining up at the bar and sometimes winding up the stairs and out the door. Consequently, service can be justifiably curt. It all levels out when you get your final bill. Most entrées run around $8 — a trifle when you consider the asking price for a dreary meal at the corner suburban strip mall chain.
Polish Village Café has old-style character. Thick support posts line the center of the brick-floored room. Walls are plaster and dark wainscot. The bar back is pretty stained glass. From the ceiling hang strings of lights and seasonal accoutrements. The seating is snug, and when a crowd fills the space, a minor din ensues. It's cozy, for sure, probably the perfect refuge on a blowy winter day, particularly if you're into having a glass of Okocim lager or a snort of vodka with your meal.
There's a full bar, and they get about as much range as possible through their four beer taps. There is also a selection of interesting Polish beers by the bottle and a few typical wines. There should be a drink to accommodate most every taste. Try finishing a meal with a delicious glass of Krupnik, sweet vodka flavored with honey and spices.
You won't find a list of deep-fried appetizers or gooey desserts on the menu, just a few pages of meat-and-potatoes Polish dishes and their accompanying sides. Start with an impressive soup. The chicken noodle is worth mentioning. The beet soup is naturally sweet and colored deep magenta. The dill pickle soup is a wonder of balance — thick, creamy and tangy with chunks of potato. The duck blood soup is sweet and chewy, with whole saturated prunes and finishing with a light tang. Cure a hangover with a bowl of tripe stew, hearty and savory with toothsome strips of cow stomach. Dining here without a soup course would be tragedy.
A popular entrée is the "Polish plate." It has a bit of all the standards: stuffed cabbage, pierogi, sauerkraut, mashed potatoes and smoky kielbasa. Covered in simple, thick and shiny gravies, this is comfort food. A note on kielbasa: The word kielbasa is actually a generic term for sausage. Browse the deli counter at Polish Market around the corner on Joseph Campau and educate yourself with the broad selection of kielbasa.
The menu proclaims the city chicken to be everybody's favorite, a reasonable claim here. City chicken is not even chicken. It is chunks of meat on a stick, presumably pork in this case, dredged in coating and baked. PVC's is absolutely falling apart and tasty, served with a pile of mashed potatoes and an unfortunate side of bland canned green beans. And who would have thought beef rolls stuffed with ham, onions and pickles would taste this good? Or that breaded mushroom cutlets could hold their own on the meat-heavy menu?
One of the standout dishes on a busy evening was the Hungarian pancake, a massive potato pancake smothered in a gently spicy goulash of fork-tender pork and vegetables. The potatoes hold up amazingly well under the goulash. Strangely, we tried the same dish two days later in the afternoon and the goulash was more like chunks of roasted pork in a separate gravy, still quite tasty, but not exactly the same dish. Frankly, it's difficult to knock the place for keeping a popular dish moving in a slightly different but equally good form, though it would be understandable if some regulars were a bit disappointed.
There are so many interesting dishes to try here — mushroom crêpes, boiled ribs, fresh sausage in beer sauce, pan-fried chicken livers — and there's a whole other menu page of such daily specials as stuffed green peppers and sauerkraut in crusty dough. What's more, on Sunday you can order a half chicken baked in onions and mushrooms for $7.50. With prices like this, you can afford to dine here a few times a month. And with food this good, you'll want to. Finish your meal with crêpes or pierogi stuffed with fruit compote or almond-flavored, sweetened cheese.
It's impossible not to be charmed by the city of Hamtramck and its diverse and spirited people. While certainly not the ideal community, it is a refreshing reminder of what Detroit used to be, and it's precisely unique establishments like Polish Village Café, among others, that keep it breathing with life more than ordinary.
Smoking permitted; cash only; open 11 a.m.-9 p.m. Monday-Wednesday, 11 a.m.-11 p.m. Thursday-Saturday, and 11 a.m.-8 p.m. Sunday.