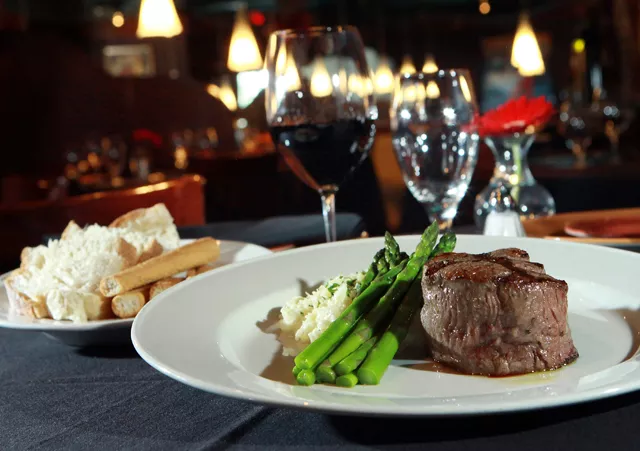 La Bistecca Italian Grille
39405 Plymouth Rd., Plymouth
734-254-0400
Handicap accessible
Entreés: $22-$53
Open for lunch 11:30 a.m.-4 p.m. Wednesday-Friday, for dinner 5-10 p.m. Monday-Thursday and 5-11 p.m. Friday-Saturday.
Those who do Groupons know that the website sometimes follows up with an e-mail asking, "Would you recommend ____?" But the normally verbose wordsmiths of Groupon allow only two choices for your answer: "yes" and "not really" — more nuanced than plain "no", but not a lot of wiggle room.
A Metro Times reviewer, on the other hand, gets 800 words to lay out the pros and cons, obliging readers to consider all the factors and make up their own minds.
If I had a single sentence instead of a single word about La Bistecca, I'd say, "This very suburban restaurant serves variable food — some great, some decent — in lovely surroundings with professional service and fairly high prices." Is that a "yes" for you, or a "not really"? For the fine distinctions, read on.
La Bistecca has its own parking lot, but you can't park there unless you use the complimentary valet, who greets you with "welcome to the La Bistecca" and says many customers are quite pleased not to walk 30 yards. I didn't notice an unusual number of canes or walkers among the crowd, so this remains unexplained.
The interior design creates a feeling of intimacy with lots of darkness — black tablecloths, dark walls — punctuated by pools of light from hanging fluted lamps. A rolling faux ceiling is eye-catching, near the entrance. Paintings of tuxedoed dancers go for a retro feel. A piano player graces the bar Thursday through Saturday.
The meal starts well when you're brought a dish of black and white bean salad and a saucer of golden, fruity olive oil centered by a pool of puréed roasted red peppers — imaginative and appetizing. Bread was warm and crusty on one visit and plain the next ("yes" vs. "not really").
The wine list owes far more to Napa than to Italy, especially in the very short by-the-glass section, where you may find Chianti the only Italian among the reds, not the best wine that Italy has to offer. Bottle offerings are extensive, however, ranging from $19 for an Italian Chardonnay to $378 for an Australian Shiraz, with most in two figures. I found a generous Argentinian Malbec fine but unnoteworthy and a not-$378 Down Under Shiraz a little on the thin side.
My companion and I loved our calamari appetizer of big steak strips, lemony with onions and peppers strewn about and plenty of sauce. The antipasto platter was less successful, with good cheeses and olives but not-so-good salumi. Other options are six baked cheeses, Italian sausage with marinara, and flash-fried cheese-filled risotto balls.
If that list sounds a bit downscale, the entrées are not. The house specialty is Piedmontese beef, from a type of lower-fat cattle that originated in Italy's Piedmont and are now raised here. Thus the words "Bistecca" — beefsteak — and "Grille" in the restaurant's name.
I find myself, however, constitutionally unable to order a dish that costs north of $30 and therefore did not do justice to La Bistecca's main attraction for west-side diners — and perhaps for Gov. Snyder, who dined there Sept. 10, entering with the greeting, "I hear this is the place to eat." Tenderloins, a 1-pound New York strip and 24 ounces of rib-eye (the "Cowboy") are available, and, now that I think of it, two people could have halved that $53 Cowboy and had plenty to eat. An opportunity lost.
Going to the other end of the beef spectrum, I can't say enough to praise the veal Marsala — so often sickly sweet but here a miracle of pungent, rich, darkness with only the faintest suggestion of sugar, served with crusty potatoes. Bravo to chef Steve Yu.
I eschewed saltimbocca di pollo because I thought chicken would be boring compared to the traditional veal, but that could have been a mistake. Yu makes this dish with prosciutto, Asiago, sage and a Madeira cream sauce.
Also satisfying were melty gnocchi with chicken, shrimp, asparagus and mushrooms in a mellow fontinella cream sauce, and squiggly cavatappi pasta with fontinella and lobster. I find the delicate taste of lobster gets lost in most dishes, though, and this was no exception. Salmon with an artichoke pesto crust is topped with a tangle of fennel slaw and a side of rice and tastes and feels immensely buttery.
Sides can be had for $4 to $9 — asparagus, spinach, risotto, truffle mac and cheese. For your salad, I recommend the balsamic vinaigrette rather than the house raspberry (sweet), and that you ask the kitchen to use a light hand.
Saving sweetness for the end of the meal, we tried a dark Godiva chocolate crème brûlée. It would be hard for this not to be wonderful and it was, with a firm, crackly crust. A Limoncello mascarpone torte was first-rate from the other direction: light, with the cake layers soaked in the lemon liqueur and topped with a raspberry.
Two glasses of wine, two entrées, one starter and one dessert set us back $98, plus tips to server and valet. "Yes" or "not really"?
Jane Slaughter dines for Metro Times. Send comments to [email protected]