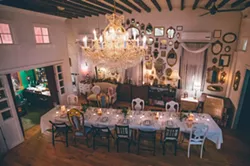 At one point, the popup dinner party was a clandestine event. You had to be on the list of a top secret supper club just to be alerted about an upcoming event. You were never told what would be on the menu, you'd have to wait until the final hour to find out the exact location (usually a person's house) or even the time. And you certainly didn't know who else might be in attendance at these things.
Somewhere along the way, the popup has morphed into a social media-driven affair, where the entire menu is published, as are details about the venue (less homey, more communal event space), time, what DJ will be spinning a set, and even special "celeb" guests. The same foodies often show up to these events, and most of them have already RSVP'd on Facebook, so there's not so much a mystery as to who you'll see.
It's some of that air of mystery that the founders of PlaceInvaders are trying to recapture with their popup concept. So far, the NY native duo Hagan Blount and Katie Smith-Adair have been able to do just so with their national supper club tour. April 29-May 1, PlaceInvaders plan to take over a top secret historic mansion in Boston-Edison for a series of dinners and brunches. Usually Blount is at the helm cooking, but for the first time, they're partnering with local chef Brandon Zarb (of Public House and Imperial in Ferndale) to prepare three five-course dinners and two brunches to span the weekend.
The dinners quickly sold out, but noon brunch can still be had for $65. Tickets must be purchased in advance
here
.
We chatted with Smith-Adair about PlaceInvaders. She said it sprang when she and Blount (they're boyfriend and girlfriend) started talking more than two years ago about how they could do more traveling in their career. She, with a background in marketing and building partnerships and he, with his cooking background, held their first event in NYC two years ago for a group of six friends. Since then, they've toured across the country, each time hosting their dinner parties in interesting pieces of architecture.
For their Detroit stop, the couple has also partnered with the non-profit writers org, Write A House. The May 1 event will raise funds for the group, which places one writer each year in a renovated house for a two-year residency in the city.