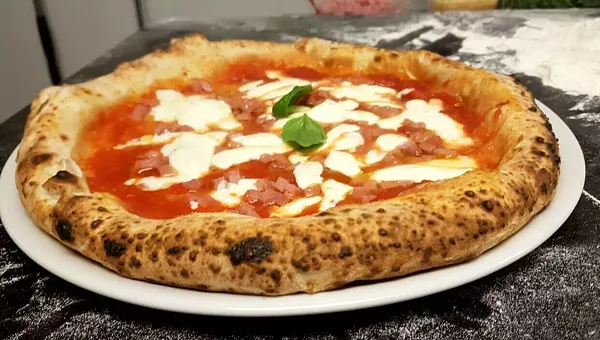 A new Neapolitan-style pizzeria that's also a co-operative with a social component in its mission is in the works in Southwest Detroit.
PizzaPlex, located on Vernor near Clark, is awaiting final inspections and shooting for a spring opening. In the meantime, the company is hiring.
Co-owner Alessandra Carreon says the store will offer Detroit's only certified authentic Neapolitan pizza, and is obtaining certification for
Vera Pizza Napoletana
(translating into "True Neapolitan Pizza"). That means pizza that's made with pure ingredients from designated regions of Italy, like San Marzano tomatoes PDO that only can be grown in Mount Vesuvius's foothills. If the pizza is topped with buffalo mozzarella, then it must be
mozzarella di bufala campana,
which is cheese made with milk from buffalo in the Campania region.
Certification also requires pizza makers to use Tipo 00 flour, a domed wood-burning stove, and adhere to a long list of techniques. (An 11-page list of guidelines that PizzaPlex will follow once it receives certification can be found
here
.)
Beyond that, PizzaPlex says it's developing an ambitious social mission.
In a release, Carreon wrote, "PizzaPlex hopes to become an open-door community space involved in a number of different social projects, ranging from cooperative labor models to training workshops, performance space for local and young bands, a programming platform for youth and senior citizens alike, green initiatives, responsible waste and impact management strategies, experiments in vertical gardening 'food is free' projects, and more."
PizzaPlex is also working with Fabio Cristiano, a third generation
pizzaiolo
(pizza maker) who runs the
Scuola di Pizzaiolo
, an Italian pizza school in Naples. Beyond teaching, Cristiano is something of a pizza showman — he's the Guinness Book of Records record holder for the longest pizza ever made at one mile in length. He also holds the record for most pizzas made in 12 hours at 5,070.
Co-owner Drew McUsic says Carreon is from Naples and they met Cristiano while they visited for their wedding.
"We wanted to try to start this partnership with him to try to make this something special," he says.
There are also similarities between Naples and Detroit, and Carreon says the two cities are "united by more than their love for pizza."
As the company put it in the release: "Naples has been struggling with poverty for decades and as a consequence suffers from a high crime rate, corrupt administration and local organized crime. However, Naples is blessed with a resourcefulness, talent, and joy for life that make it the vibrant and creative city it is, regardless of its hardships. It is very often discriminated against yet it manages to resolutely overcome prejudice through its open heart and hard working approach, which is what PizzaPlex is hoping to achieve in Southwest Detroit."
Get more food news. Join our weekly dining newsletter here.