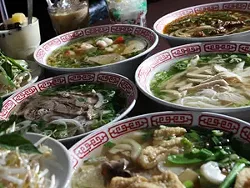 How does a person choose among the Vietnamese restaurants in Madison Heights? I hope more frequent visitors will let me know. There are at least four Vietnamese places on Dequindre or John R, plus one new this year in nearby Clawson. The Madison Heights restaurants are all strip-mall storefronts, pretty basic in decor and apparently basic in mission: to provide pho to the immigrant families of the neighborhood.
Thang Long, run for 15 years by Alexander Nguyen, serves the country's national soup with aplomb. Making pho is a time-consuming process, so you can understand why people wouldn't want to come home from a hard day at the nail salon or wherever and face a recipe filled with phrases like "overnight," "5 lbs. oxtails" and "four to five hours."
Pho (pronounced more or less fuh, with nearly two syllables) is essentially a large bowl of clear beef broth, beef and rice noodles, with scallions and herbs added as the chef and the diner decide. Charred onion and ginger add to the broth's complexity. It's an enormously satisfying meal, especially if you slurp the noodles from your chopsticks while slurping the broth from your china spoon. The meat can be combinations of sliced rib eye, tendons, beef balls or tripe (all $5.95), or the "deluxe" with all four ($6.50).
Other "large bowl" noodle soups are made with pork and chicken broth, and there are $6.50 rice soups made with catfish, chicken, duck or seafood.
It's a shame to ever eat in a Vietnamese restaurant without ordering soup, but if you don't want it to take up your whole meal, you can start with less hearty cups of $2.50 Hanoi soup (pho), Saigon soup with strips of fish cake, or spicy Hue soup. I had a heavenly duck soup with cilantro, sprouts and mushrooms in which the duck was so fatty and rich, the vermicelli not too soft.
One of my pet peeves is some people's habit of covering up the taste of their food with condiments. IMO squirting hoisin or chili sauce onto everything Vietnamese is like dumping ketchup onto everything American. Those cooks put a lot of work into making a myriad of different dishes; at least try the unsquirted version before you reach for the squeeze bottles.
If the long list of soups isn't enough in the starters category, there are also crispy rolls and soft rolls. The non-greasy crispy rolls are delicious and filled with ground pork, mushrooms and cabbage — producing a startling but lovely purple interior.
A largish chunk of the menu is devoted to making your own soft rolls. You're brought a stack of clear rice-paper circles, stamped with a pattern that looks cut from a shower curtain. You get your desired filling — "pork sausage of Vietnam," crabmeat and shrimps, grilled beef, fried tofu—and big piles of lettuce, sprouts, vermicelli, shredded carrots, mint and cilantro. A big china bowl of hot water is brought to the table, in which to soften the rice paper. Dip it, pile on the fixin's, wrap and crunch. Each order is plenty for two people.
We found Vietnamese sausage not too flavorful, shrimp disappointing and another dish just odd — not the sort of thing you would subject the wrap treatment to. That was crispy curry pancake, a giant pancake stuffed with mostly sprouts and yellow beans but also a bit of shrimp and pork. The outside was mildly interesting and the interior bland.
Perhaps the best dish we tried at Thang Long was whole crispy catfish — a very large animal including its tail and most of its head, served with rice. It had a crisp crust, soft white flesh and a hot-sweet ginger-garlic sauce. Also good, and surrounded with tomatoes, peppers and onions, was a spicy lemongrass catfish, though I thought the crust somewhat overcooked (it's pieces, not the whole fish).
If you have room — these are very large dishes — a dessert/drink will hit the spot. An avocado smoothie was nutty and sweet, a lovely pale green. Jackfruit, pineapple and durian versions are also possible. Chè, sometimes described as a pudding, perhaps because of the condensed milk, is served in a glass with ice. It looks like a Christmas special, with layers of bright green and bright red Jell-O shards and flashes of yellow cantaloupe, all in a sweet coconut milk base.
Readers, I ignored both the elevator music and the Thai part of Thang Long's menu, which is just as long as the Vietnamese part. There is plenty of Pad this and Tom Yum that for sale, but I figure if you're making the pilgrimage to Madison Heights, you ought to try something not available in your own backyard.
If you order your pho to go, the broth will be packaged separately from the beef, noodles, spring onions and cilantro, for a maximally fresh experience.
Jane Slaughter dines for Metro Times. Send comments to [email protected].