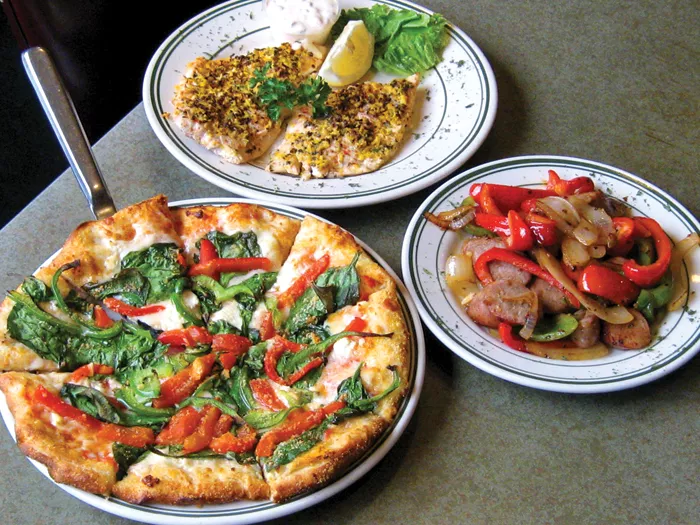 31555 Woodward Ave., Royal Oak; 248-549-4002; pasqualesrestaurant.com
Open 4 p.m.-11 p.m. Monday-Thursday, 4 p.m.-midnight Friday-Saturday, noon-10 p.m. Sunday
Situated on Woodward, far removed from the city's bro-ridden downtown, Pasquale's has been quietly serving up some of the best Ameri-Italian cuisine anywhere around town for the last 50 years. Complete with pizza, pasta, pescatarian dishes, Neapolitan fare, and delicious desserts, their menu offers a family-friendly feeling, complemented by a thorough beer and spirits list.
The Del Giudice family invited us to come try their most popular menu items, along with a couple of brews.
When we rolled into the parking lot around 2 o'clock on a Thursday afternoon, the restaurant wasn't open for business yet. Having recently closed for lunch, the place is now only open for private banquets and parties before 4 p.m. The empty restaurant allowed us to enjoy the attractive interior. Taking in the vintage aesthetic, we noticed beautiful brickwork, swooping arched doorways, and antique-style chandeliers. Booths are outfitted in red leather, offering what would otherwise be noted as a '50s feeling, but coupled with the '70s-style Italian decor, it all worked to create an eclectic but homey feeling.
Paul Del Giudice was our gracious and animated host, bringing us just about everything on the menu. While Del Giudice says the restaurant does draw a more family-oriented crowd, he's working to bring in more twentysomethings. One way he's tackling that is by consistently adding to the restaurant's beer offerings. Since last November, he's upped their tap handles to 20, offering local drafts from Bell's, Founder's, Short's, Atwater, and Griffin Claw.
"We take beer seriously," he says.
Of course, we came to sample the food, and there was no shortage of it. Del Giudice supplied us their traditional pepperoni pizza, a thin crust, spring-spinach pizza, and a deep-dish personal pan pizza. A beautiful citrus white fish, a cheese-topped spaghetti dish, and a plate of Italian sausage and peppers were also included in the feast. To cap the meal off, we had a giant piece of layer cake and a beautiful cannoli.
Among our favorite was the thin- and crispy-crusted spinach pizza. Light and flavorful, it's a good item to choose for summertime dining. Conversely, the deep-dish pizza was tasty and filling, reminding us of old-fashioned home cooking.
The traditional pizza, served atop a silver platter, came replete with the grease-filled pepperoni cups and crispy, thin crust you expect from an Italian eatery. And it was delicious.
While saving room for dessert was tough, the giant hunk of Vesuvio cake was calling our name throughout the meal, silently beckoning to be devoured. Lighter than we expected, the cake also isn't as rich as it appears, lending itself to being eaten in its entirety. Be warned.
A family-friendly atmosphere with broad appeal, Pasquale's has something for anyone who likes a traditional take on Italian.