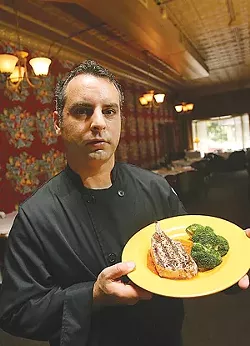 Let's talk about bread. Is it really the measure of a meal? Can you get a pretty good idea of what the rest of the meal is going to be like once you've sampled the bread basket? Think about this for a minute before you read on.
I hadn't realized just how seriously diners take their bread until I saw a list of customer comments, a few years ago, collected by Zagat about a new restaurant in the suburbs. The diners were overwhelmingly enthusiastic — but every single one felt moved to mention that the place was charging for bread. The nerve! — I had to agree. Except in Indian restaurants, we take free bread as an entitlement. Do we then accept that you get what you pay for — if it's free, we're not demanding about the quality?
My own approach in a restaurant is to care a lot, on one level, about the bread and the butter or olive oil that comes with — but not to eat very much of it, no matter how hungry I am. I'm saving room for the "important stuff," heeding my mom — "Don't spoil your dinner!"
Jeffrey Steingarten, food writer for Vogue and author of The Man Who Ate Everything, would disagree (but then, Steingarten seems to experience no capacity issues, ever). He says that "any restaurant review that fails to evaluate the quality of the bread is either incomplete or completely invalid." I wasn't going to mention the ordinary white rolls at Antonio's in the Park, an Italian restaurant, till I read this rebuke. They're warm; they come with both foil-wrapped butter pats and a bland olive oil.
And, yes, they were an accurate harbinger of things to come. Antonio's is surprisingly down-market for Grosse Pointe (even the G.P. next door to Detroit). The Parmesan comes in powdered form. Meatballs are available with your spaghetti ("add $1.95"). Salt and pepper shakers are diner style, despite the white linens. Desserts are delivered by Sysco. Although the dishes are authentic Italian ones, mostly, they bow to American preferences — vast amounts of sauce per strand of pasta, for example. The ones I sampled were mostly one-note — one strong flavor rather than a cascade to titillate the senses.
The space — which was Sparky Herbert's a dozen years ago — is nice enough: two long rooms with upholstered armchairs, a skylight in the tin ceiling and dark wood paneling, alongside a long bar. Both the servers and the sidewalk tables are more than pleasant, and cool even on a hot and busy night. Look for the rather charming tablecloth weights outside. The place was filled with Grosse Pointe regulars on a Thursday night. 
The best dish we tried was a soup called vedova, accent on the first syllable, meaning "widow." It's a rather thick minestrone, strongly tomato-based, with a dollop of ricotta, some good basil pesto and a poached egg; mix it yourself. Throwing an egg into a dish is always evocative, to me, of peasant dishes where an egg is a nutrition bonus. The vedova was ultimately satisfying on all levels: hearty, healthy and a taste surprise in every slurp.
A guilty pleasure was an appetizer of scamorza, a cheese similar to mozzarella. At Antonio's it's placed between bread, fried on all sides and covered with a sauce of lemon, olives and more butter. It is rich; your face may sweat, but the lemon tartness is bright enough to make it not cloying.
If you ask for your Caesar with anchovies, they'll come as three bold, salty strips. But the Parmesan, as previously complained of, is a fine white powder. The house salad is overly chilled romaine in a cheesy dressing, with single sad slices of tomato and cucumber on the side.
Garlicky shrimp scampi are lightly breaded in a thick sauce. Your side dish of pasta, which comes with the meat and fish entrées, is ziti drowned in a Bolognese of little flavor. 
A special one night was baked tilapia, not bad if you're looking to hide any fish taste under lots and lots of butter-caper sauce. Tuna Siciliano, with a piquant tomato-caper sauce, was less successful — tough though rare as ordered. The grill marks on top looked as if they'd come from the factory.
Plump ravioli were well stuffed but nothing to write home to mama about. I tried a mountainous order of tagliatelle con dadi (cubes) di prosciutto, and danged if I could detect any prosciutto anywhere. It must have been well-ground-up, its flavor overwhelmed by still-crunchy onions.
The menu is long; my advice is to pick the simplest choices. If the dish is only supposed to have one or two notes, you won't be disappointed. Veal piccata, with just lemon, butter and garlic, may be a better choice than veal Sorrento, with five more ingredients.
Antonio's serves dinner only, every night except Monday.
Jane Slaughter dines for Metro Times. Send comments to [email protected].