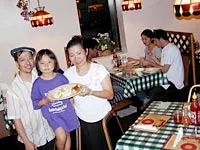 If you are new to Eastern Michigan University and looking for an alternative to institutional food, it is a short walk from campus to the Golden Wall. It's a good choice for those seeking to expand their culinary horizons — think of it as Asian Eating 101.
The menu combines Vietnamese and Chinese cuisine — with a few additions such as crab Rangoon and chicken curry — in an ambitious list of entrées, adapted to Midwestern tastes.
We were pleased to note an appetizer of steamed pork dumplings, which brought back memories of my own college days when a friend from Taiwan taught us how to make this delicacy. The noodle is a simple flour-and-water dough which we pressed into rounds with our fingertips, filled with ground pork and scallions, folded in half and then sealed by pressing the edges together. Then we slid them into a big pot of boiling water; when they rose to the surface, we would add a cup of cold water and bring it to a boil two more times. Then they were done. That was our company dinner all year.
The dumplings served at The Golden Wall have a homemade appearance, similar to ours though not quite as rustic. Owner and chef Sam Nguyen likes to visit with his customers; we learned that he grew up in Vietnam, leaving at age 17 for a stint in Thailand before coming to the United States, where he worked in a variety of restaurants before opening the Golden Wall less than a year ago.
Nguyen will steer you toward his best dishes, which was how we came to try a tasty stir-fried chicken with lemongrass. The chicken and vegetables were glazed with a slightly sweet, slightly pungent sauce and served over rice. The lemongrass, normally used to flavor stock, was diced like a scallion and tossed into the mix. Tasty, though it is somewhat tough.
On another evening we tried to order a hot pot called Thap Cam Tay Cam — "eight treasures with bean curd." We never found out what the eight treasures were because Nguyen urgently suggested a pork hot pot instead. Served in an unglazed clay pot with a tight-fitting lid, the simmered pork had a texture similar to short ribs with a subtle but satisfying flavor.
Chef Nguyen's version of Pho Dac Biet, a meal-in-a-bowl soup of beef and noodles, was good, with lots of brisket, meatballs and tripe. It was served with fresh lime and bean sprouts, which are added to the hot broth at the table. We missed the abundance of fresh aromatic herbs that are usually offered in Vietnamese restaurants.
Golden Wall has a decor that can best be described as functional, and some may find the spice level too bland. There are industrial-sized bottles of hot sauce on the tables, but no bottle of nuoc mam diffusing its pungent fish aroma across the table.
We finished the meal with Vietnamese-style iced coffee with condensed milk and a "three-color" bean drink that wasn't listed on the menu, but was speedily available when we asked for it.
Elissa Karg dines for Metro Times. E-mail [email protected].