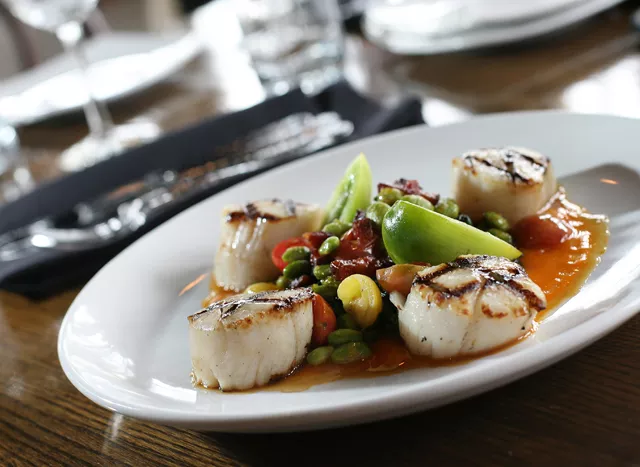 Detroit Prime
32769 Northwestern Hwy., Farmington Hills
248-737-9600
www.mattprenticeculinaryexperience.com
Handicap accessible
Most entrées: $14-$28
Open 11 a.m.-10 p.m. Monday-Thursday,
11 a.m.-11 p.m. Friday,
5-11 p.m. Saturday and 5-9 p.m. Sunday.
Iconic restaurateur Matt Prentice gives three reasons for centering his new Detroit Prime around cheaper cuts of beef like hanger and flatiron. It hadn't been done before. Beef prices are skyrocketing. And, simply, "they have more flavor."
He'd rather call the place a "meathouse" than a steakhouse, relegating the "classic cuts" like New York strip to a footnote at the bottom of the menu.
Intrigued by the possibility of a Matt Prentice-level piece of beef for $16, I studied up on my value cuts and went prepared. (Many items have been bumped up since then, and some deleted; the only meat entrée for $16 is now ... chicken.) I'd enjoyed very thin, tough carne asada cooked the Guatemalan way, so I wasn't worried about a chewing challenge.
Turns out there is no such challenge at Detroit Prime, thanks to rubs and cures and 24 to 36 hours of marinating, what Prentice calls "pampering."
All his beef is "prime," the top USDA grade, with the most marbling. It annoys Prentice to no end that most restaurateurs serve the next grade down, "choice," while using "prime" as an adjective on their menus. To his knowledge, the only steakhouse in the area that serves USDA prime is Ruth's Chris, and that's only for two cuts. Apparently, customers all over willingly or unwittingly shell out $50 and more for "choice" fillets. At Detroit Prime, they'll know what they're getting — even in a Ground Prime Brisket Burger.
Your meal starts with excellent sourdough, baked at Prentice's other restaurant, Morels, next door, and a superior pale butter. With the starters, soups and salads, as with the rest of the menu, Prentice appeals both to traditionalists and to those with more curiosity.
A big serving of smoked carnitas was not like the smaller, fried bits usually served in a (real) Mexican restaurant, but rather pulled pork. It's served with queso fresco and a salsa verde with just the right amount of heat, but unfortunately with flour tortillas, which I always think taste like library paste.
Scallops (two for $10) were admirable, perfectly charred, but served with a strange fried white pasta with no taste at all, a culinary marvel.
We loved a thick curried pumpkin chili with black beans and chunks of the vegetable, again with just the right amount of heat, only slightly sweet.
Lamb, pulled chicken and pork belly are also starters, this being a meathouse, or roasted beets for those avoiding further artery insult. The unaccountably enduring iceberg lettuce makes an appearance in the Detroit Chop Shop Salad, there's a Caesar with roasted tomato, and fig and melon with tomatoes looks enticing.
But the meats are the leading lights here, and chef Travis Waynick does a bang-up job both making them tasty and uniting them with sides, sauces and marinades that are exemplary themselves.
Hanger steak comes from the diaphragm, which sounds tough — but isn't — in Waynick's $20 rendering. It's treated with brown sugar, cinnamon, cumin and chipotle, creating a bit of a sweet crust. Served with caramelized onions and a lemony, very fresh chimichurri, it's ideal.
The flatiron is a bit chewier but well within the realm of do-able. (And when you think about it, why should chewing be avoided at all costs? We have teeth. We're not babies.) You can taste the Dijon, and it's marinated in honey wheat ale.
A thick Berkshire pork chop is marinated Korean-style and served with a "tropical" mole with a bit of bite. Short ribs are rubbed with root beer spices and braised in Faygo root beer, which sounds sickening but gives the meat a rich, satisfying caramel taste. The ribs' side, wittily, is polenta (kinda cornbread), literally melt-in-mouth with a smack of tarragon.
The surf 'n' turf here is hanger with lobster bread pudding, at $25 the second-most-expensive of the recommended cuts. Some are still ordering 18 ounces of bone-in rib-eye for $55, but 85 percent of customers are going with Prentice's experiment. Seafood and two vegan dishes are there for the non-carnivore who gets dragged along.
Sides are a la carte at $4-$6. I adored the roasted asparagus with shaved Parmesan. Mashed, fried and baked spuds are there too, of course, loaded.
Desserts tend to the nostalgic: Sanders hot fudge cream puff, Vernor's spice cake. A big chocolate pot de crème is topped with gobs of whipped cream that came from no aerosol can (and I shouldn't have to say that).
Prentice is trying hard to make this suburban location on Northwestern Highway inviting, and the decorating is still a work in progress. The idea is Detroit nostalgia, with photographs and logos depicting the train station, Vernor's, Olympia, Henry the Hatter, the Belle Isle Conservatory (white wicker chairs and green plants, fronting on the patio). The music of Motown plays. It feels a little forced at this point, but perhaps will mellow as the place loses its feel of brand-spanking newness.
Prentice's ideal scenario is parents schooling their kids in the lore of Tiger Stadium while treating the family to an affordable night out — and a bit of culinary education.
Jane Slaughter dines for Metro Times. Send comments to [email protected]