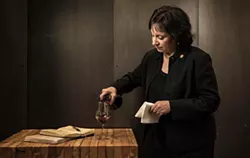 Because the idea of trying to figure out how to pair a glass of red with dinner is enough to make you want to give up and turn to the boxed stuff, Mabel Gray chef-owner James Rigato and local wine legend Master Sommelier Madeline Triffon are joining forces to show you how it's done.
The duo quickly sold out of a May 9 dinner and wine pairing event at the popular Hazel Park eatery, which is to include a five-course meal to go with 10 blind pairings. Guests can expect to have their misconceptions about food and drink to be dispelled.
Rigato and Triffon have worked together many times over the years, first meeting at the former Shiraz in Bingham Farms. Triffon , who in 1987 became the United States' first female Master Sommelier, now holds that title at high end Plum Markets and travels the world for her craft. Rigato has been making a splash more recently for his lauded cooking at The Root in White Lake and the opening of his Mabel Gray last year.
More dinner and wine events with the two are in the works. In the meantime, for those of you who won't be at the first dinner, we chatted with the chef and somm to unravel the mystique of food and wine pairing.
Metro Times:
What's the biggest misconception about food and wine pairing?
Madeline Triffon:
That's it's a complex exercise that a normal human being can't figure out. The principles are pretty simple, they can be taken to a refined level of course, but the basics are big picture – what pairing to avoid, what works like a house on fire.
MT:
Do you have any pet peeves about the public's knowledge (or lack thereof) of wine?
Triffon:
I don't get peeved about the public, love to serve them! Perhaps would redirect their assumption that appreciation of wine takes deep knowledge. No more true than an appreciation of food takes an ability to cook! A little accurate knowledge deepens one's pleasure and adds an intellectual element for sure. One can educate oneself in a broad, useful way quickly and easily, just by paying attention to wine over a year's time.
MT:
How do you get the most out your pairing experience?
Triffon:
Taste the wine first, then the food, then the wine again. And don't think! Let your senses assess the match. Trust your nose and palate, take picture of dishes and wines that really struck home. Of take a quick note!
MT:
When doing a blind tasting, what should you be looking for to help identify a "good" wine?
Triffon:
The aroma is the most telling element, followed by concentration of flavor and persistence of aftertaste, the "finish". It helps to have a wine professional guide you in the initial stages, show you how they taste. Quality of fruit reigns supreme, much like fine ingredients in cooking. Integration of elements like tannin and acid and alcohol in a harmonious way is desirable. It's not a difficult skill set to acquire – more consumers would be well-served to ask such a terrific question, how to asses quality in blind tasting, as opposed to identifying the wine!
MT:
This one's for James, how do you design a menu around wine pairing?
Rigato:
When it comes to wine dinners, sommeliers are often pairing to the dish. But enjoy pairing the food to the bottle. Often times I will taste the wine and think about what food will stand out or what is aggressive about the wine that needs to be balanced. Doing these dinners with Madeline is exciting because she will push the boundaries with pairing but has the experience and discipline to completely pull it off.
MT:
Final question, we're accustomed to a gourmet meal to go with fine wine selections. But what if you were to pair wine with something more utilitarian, like say, a Coney?
Triffon:
It's the garnishes and accompaniments, not so much the Coney itself… Onions (heat), relish (sweet & acid), ketchup (sweet), mustard (heat) all add challenging elements. Safest wine bet is ripe, simple red slightly chilled (inexpensive Zinfandel, Cotes du Rhone), fruity white (off-dry Riesling), dry rosé from Mediterranean growing regions. But a malty beer would be an easier fix!