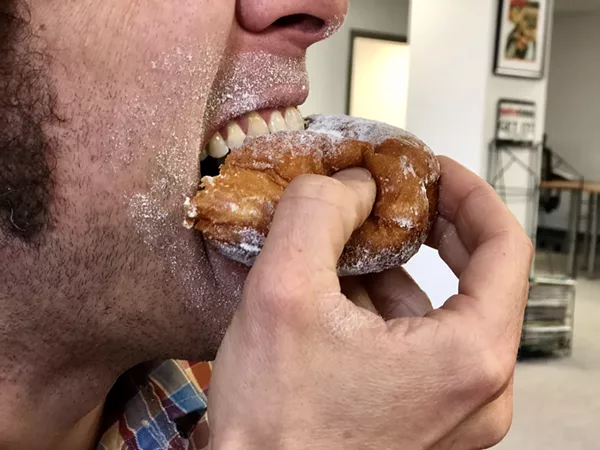 They're sweet, gooey and delicious.
They're a Fat Tuesday tradition.
And they're decadent, deep-fried calorie bombs.
If you've been debating whether to indulge on a
paczek
today, consider this: the plump pastries pack between 500 and 1,000 calories and up to 40 grams of fat, depending on the size and ingredients, according to Blue Cross Blue Shield of Michigan.
For our sake, let's average it out to 750 calories.
That's the equivalent of:
• 3 slices of Little Caesars pepperoni pizza
• 2 McDoubles from McDonald's
• 2.5 maple-filled donuts from Tim Hortons
• 80 barbecue-flavored Better Made chips
• 250 McClure's pickles
If you want to burn off those calories, it will take some time.
Here's how to burn 750 calories, according to the American Council on Exercise:
• Walk for 85 minutes
• Swim for 60 minutes
• Cycle for 100 minutes
• Shovel snow for 60 minutes
• Jog for 65 minutes
Of course, you could choose a healthier paczek, like the baked ones at Avalon bakery in Midtown or downtown.
Or you could join the rest of us and indulge on the decadent Polish pastry that only comes around once a year.
So many restaurants, so little time. Sign up for our weekly food newsletter delivered every Friday morning for the latest Detroit dining news.