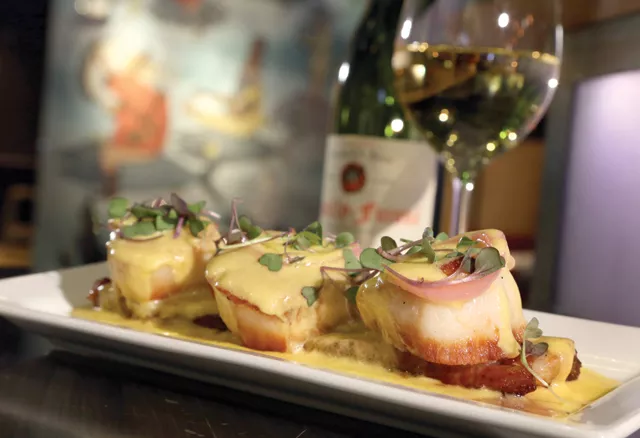 The Sardine Room
340 S. Main St., Plymouth
734-416-0261
Handicap accessible
Small plates and snacks: $3-$14
Large plates: $12-$21
The Sardine Room opens Monday through Saturday at 4 p.m. and closes at approximately 9 or 9:30 p.m. Monday-Tuesday, 10 p.m. Wednesday-Thursday, and 11 p.m. Friday-Saturday. Sunday brunch is from 10 a.m. to 3 p.m. with dinner from 4 to 9 p.m.
The owners of the Sardine Room explain that the name of the place is more about the feel than about the bill of fare. Seven hundred oysters are consumed in a week, and the chef offers a raw bar, Portuguese sardines, and a couple of ways to eat lobster, but diners will find more terrestrial dishes on the menu than seafood, in the long, skinny space.
Nor are patrons literally crammed in like the restaurant's finny namesakes, but it was certainly brimful of customers on a recent Friday evening, and the noisy acoustics added to the packed feel. Drinkers and diners sit at the long bar, or at a row of high-tops awaiting a better seat, or in booths that have an unfinished feel; one had plywood tacked up on two sides. The owners, the Yaquinto family of Plymouth fame, are reaching when they say the Sardine Room has a speakeasy feel, but it's certainly got a lively vibe.
Add to that some slightly off-the-beaten-path ingredients and you have an ambitious concept. Sweetbreads, rabbit, frog legs, foie gras, roasted bone marrow — none of these is unheard of in these parts, but you won't find them in every restaurant that calls itself a bistro either. The large plates tend toward the standard American — sirloin, pork chop, turkey leg, burger with Velveeta — while the "snacks" and small plates branch out.
The Yaquintos are finding the Sardine Room's customers more adventurous than those in their two adjoining restaurants, Compari's and Fiamma Grille. They're ordering bone marrow, for example — look for it everywhere soon; it's the new, less healthy kale.
Chef Mario Maniac makes the dish with salsa verde, but not enough to cut into the embarrassingly rich umami of the marrow (the gelatinous interior of a bone). The mixture is piled back into the bone, if you can say "piled" for such a tiny amount, and you scoop it out and spread it on toast, not sharing with your tablemates.
The unimagined lushness of the marrow could be the reason I had trouble finishing another rich dish: scallops with pork belly and Hollandaise. Plus some barbecue sauce. Incredibly, the generous slab of pork doesn't overshadow the delicate scallops; this dish was a miracle of taste sensations. It's only a surprising $10, and I'd recommend splitting it. In fact, the Yaquintos want sharing to be the norm: "more camaraderie," as general manager Ryan Yaquinto explains.
Also tender and richly lovely is wagyu sirloin, the Japanese-style highly marbled beef, again well priced at $21. It comes with smoky creamed onions larded with bacon.
We loved, too, a taste from the other end of the richness spectrum: sea bass, ethereally light, with just the barest of crusts. Served with fabulous earthy green lentils, and with turnips, portobellos and fire-roasted red peppers, this $14 small plate is plenty for a meal.
My companion spoke highly of his half-dozen oysters from various spots on the Atlantic, served with the requisite lemon garlic sauce and horseradish; my hat is off to anyone who can distinguish them. Tuna and scallops are also served raw, sashimi-style, and you can get half a chilled lobster, certain to be popular come summer, when the restaurant will have tables on the sidewalk.
Popular tacos of grilled snapper were perhaps a bit heavy on the lime aioli, which tended to obscure other flavors. I liked my rabbit ravioli, four small ones in a savory sauce, but have to admit that rabbit doesn't have a lot of presence (bunnies are shy). A big Berkshire pork chop was tasty enough, but its side of grilled endive just smoky.
The only dish we tried that didn't really hang together was a broccolini salad with a big slab of burrata on the side, but then its vegetarian owner had rejected the chef's planned prosciutto, doubtless an essential ingredient, so who knows? Burrata is an Italian cheese, fresh mozzarella on the outside and mozzarella and cream within. It sounds better than it is, which is pretty bland.
The menu is long, with many more intriguing choices: steak tartare with a quail egg, foie gras in a crêpe, a ham board and a cheese board, linguine with chorizo and clams, oysters Rockefeller. A new menu is set to replace some items that have been tried out, successfully, as specials: Mangalitsa pork, wild boar ragu, braised lamb leg.
The Sardine Room likes to play with cocktails, producing, for instance, one called the Boulevardier, bringing to mind images of Maurice Chevalier. Chevalier, of course, wouldn't have drunk bourbon, much less make it undrinkable by adding bitter Campari — but my friend who ordered it loved it. Another pairs Canadian Club with apple juice!
Much more intuitive are simpler cocktails like Rosemary's Baby, with vodka, lime and rosemary simple syrup, or the Hemingway, with rum and citruses. Wines range from $7 to $13 by the glass and $29 to $135 by the bottle. Or go for a $2 PBR during happy hour.