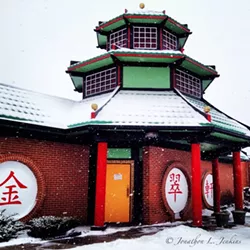 A Novi restaurateur and his wife must answer to federal charges that allege that they hold responsibility for the deaths of five undocumented immigrants who were hired and housed in his home and who died in a house fire last month.
U.S. Attorney Barbara McQuade announced today that Roger Tam, 55, owner of Kim's Garden, A Chinese restaurant in Novi, has been taken into custody after a criminal complaint was filed in federal court charging him with harboring undocumented immigrants. Also charged is his wife, Ada Mei Lei.
The investigation sprang from a Jan. 31 house fire on Mystic Forest Drive, where the workers were staying. At the time, Tam told Novi police that he had paid them cash wages and allowed them to live in the basement of his home as a condition of employment, the unsealed criminal complaint shows. He told authorities that he did not have documentation of the victims' identities.
Killed were Brayan Alexis Medina Contreras, 16, from Pinos, Zacatecas, Mexico; Leonel Alvarado Rodriguez, 18, from Lagos De Marino, Jalisco, Mexico; Simeon Diaz Nunez, 18, from Santa Maria Chimalapa Juchitan, Oaxaca, Mexico; Miguel Nunez Diaz, 23, from Las Choapas, Vera Cruz, Mexico; and Pablo Alvaro Encino, 23, from Ocosingo, Chiapas, Mexico, according Novi police. They were identified in an immigration database as being unlawfully present in the United States, the complaint shows.
Novi police say the cause of the fire appeared to be accidental and that the fire originated on a mattress in the basement of the home. The Oakland County Medical Examiner's Office ruled the causes of death to be smoke and soot inhalation.
During the investigation, Tam's daughter told police that several rooms had been set up in the basement of the Mystic River home to accommodate overnight guests. The Tam family had recently moved to another home in Novi, she told authorities, but that her parents stayed in both the new home and the Mystic Forest Drive address. She said the guests would leave the house with her father every morning and return with him late each night.
A brother of one of the victims, Alvarado-Rodriguez, told authorities that he too had worked at Kim's Garden and that they and four Hispanic individuals and a Chinese man all resided in the basement of the home. The brother, not named in the complaint, said he was paid $2,000 a month, plus boarding, and meals during work. Tam drove them all to work each day. Occasionally, Tam would go into the basement to wake up the workers. He also said that there were no fire extinguishers in the basement and that Ada Lei had disabled a smoke alarm because it kept beeping.
The investigation gives us a disturbing glimpse into the potential realities of undocumented immigrants who work in restaurants across the United States. A Pew Hispanic Center report says that 11 percent of the 10.4 million people employed in restaurants and bars are undocumented (that's 1.1 million). Immigrants who are not authorized to work or reside in the U.S. are vulnerable to falling victim of workplace exploitation, but often do not report potential abuses out of fear of being deported, or because of threats or coercion by their employers.
Authorities from Immigration and Customs Enforcement's Homeland Security Investigations unit is investigating the case to determine whether the workers were in fact exploited.
"My immediate sense is that this extremely tragic loss of life could have been avoided," said Marlon Miller, special agent in charge of ICE Homeland Security Investigations Detroit. "HSI is committed to aggressively investigating those who harbor undocumented immigrants and place personal profit ahead of public safety. HSI simply will not turn a blind eye to employers who shirk their responsibility to maintain a legal workforce."