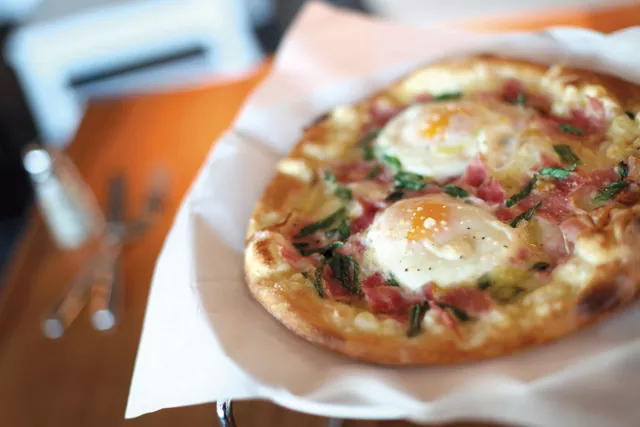 Crispelli's Bakery & Pizzeria
28939 Woodward Ave., Berkley
248-591-3300
Handicap accessible
Small pizzas: $8.50-$9.50
Breakfasts: $5.50-$7.50
Open 7 a.m.-10 p.m. Sunday-Thursday, till 11 p.m. Friday-Saturday. Breakfast is served until 11:30 a.m. on weekends.
If the service design is bewildering at Crispelli's, causing the first-time visitor some harried moments, it's made up for by the fresh fine food turned out by chef Steve Lindemier and his team of pastry and pizza chefs. I predict vast amounts of business over the holidays, as families give the cook a break by going out for breakfast one day and ordering pizza the next.
You're met by a hostess who gives you a menu and explains the setup: Order your thin-crust pizza directly from the guy who'll make it, move to the next station to ask for other dishes such as salads, pasta or sandwiches, get your wine or beer at a third location, and do or don't skip the pastry case in the corner.
Stand around. Remarkably soon your name will be shouted by several behind-the-counter minions, as each item becomes ready. Pick up your food and go to a different counter for your napkins and silverware. Be seated. Breathe and relax.
Refined it's not. Those who want to avoid the hubbub can sit in a comfortable bar-like side room with regular wait-service and a full liquor license.
You should know that there is no Mr. Crispelli behind the place, as the apostrophe would imply, but rather a team of restaurateurs, some with experience at the Papa Romano's chain. The "crispelli" in question are actually an Italian fried dough treat, in some regions served at Christmas, and made at Crispelli's every day. But they're overshadowed by the baked goods turned out by pastry chef David Auer.
Let's start with breakfast, which Crispelli's treats as the most important meal of the day, like your mom said (that is, load up on carbs). Calzones, quiches, waffles, French toast from house-made baguettes, frittatas, muffins, Danish, potato pancakes, steel-cut oatmeal, smoked salmon with cream cheese and red onion — any hearty breakfast other than eggs+toast is available, at prices a couple bucks less than you pay at upscale breakfast places.
The attraction, though, is breakfast pizzas, cooked super-fast in a 500-degree stone oven. Consider bacon, ham and Italian sausage with cheddar and scrambled eggs, or hash browns, caramelized onions, bacon and Swiss with scrambled. We chose smoked salmon with tomato, cream cheese and red onion, the usual accompaniments to a good bagel and one of my favorite brunches. The addition of two large eggs baked over the toppings was a master stroke (one I first saw at Supino's).
A well-stuffed calzone also fired in the oven was less impressive, the corned-beef hash inside barely noticeable. Potato pancakes were OK but skimpy — by volume, there was more sour cream on the side.
Auer does well with croissants and Danishes, though there was a glitch one Sunday. I ordered a chocolate croissant, which traditionally, and here, comes as a rectangle, pain au chocolat, rather than a crescent. Two skinny batons of Cacao Barry are inserted; they melt in the baking. But though delicious, the croissant wasn't layered as it should have been; the texture was cakey, not flaky.
The technique that creates a croissant's time-honored flaky strata is to layer the thin dough sheets with cold butter, Lindemier explained. In the oven, the steam from the butter escapes and the croissant pops. But if the butter is too warm, the layers collapse into each other. New person in the kitchen.
A raspberry Danish was appropriately flaky and finished with thin ribbons of fondant, not the big globs of icing that ruin most Danishes. All the Danishes are glossed with apricot glaze for an extra layer of complexity.
Crispelli's might sell 400 pizzas in a day, and does most of its business for dinner. You can design your own, of course, and my companion made a great one with spinach, roasted garlic and artichoke hearts, with just a smattering of red sauce and no cheese. Ordering off the menu, I was even happier with the "Prosciutto" — simple with garlic, fresh mozzarella and arugula — and the White Pie: "traditional" mozzarella, parmigiano, both minced and roasted garlic (love those big sweet cloves) and artichoke hearts.
Crusts are super-thin, but there's also a "Detroit-style" deep-dish. A few pasta dishes (lasagna, mac and cheese, spaghetti and meatballs), soups, salads and deli sandwiches round out the menu, along with great-looking panini: Caprese, grilled vegetables, salami and soppressata, Reuben (!). But most folks are ordering the pizzas.
We found a Caesar salad fine, if not classic (no anchovies), and the house salad OK — mostly iceberg, with garbanzos, olives and a decent vinaigrette. A prosciutto-kale-sweet potato soup looked and sounded fantastic — thick with meat — but the flavors hadn't blended, a disappointment. A $26 bottle of Chianti made me overcome my prejudice toward that old Italian friend.
Crispelli's also sells its baked goods to take home, but they haven't been discovered by the people of Royal Oak and Berkley yet; on a good day the store might sell 30 loaves. This should change.
Jane Slaughter dines for Metro Times. Send comments to [email protected]