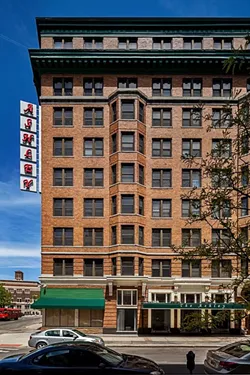 This fall, downtown will have another option in the wine department, with the arrival of Vertical Detroit, to be installed in the Ashley Apartments building in Harmonie Park. This spot, to be run by father and daughter team, Jim and Remy Lutfy, will offer more than 250 vintages by the bottle, more than 40 by the glass and will be paired with a variety of small plates prepared by executive chef Alex Knezevic.
The Lutfys have been in the wine game for decades. Owners of Fine Wine Source in Livonia, the elder Lutfy got his start selling wine in his family's store, Cloverleaf Market. Remy Lutfy followed in dad's footsteps and studied wine-making at University of California Davis, which boasts a strong ag program and is within close proximity to Napa Valley, where she also interned. The duo since decided to partner up and have spent the
last five years looking for the ideal location to set up shop.
Harmonie Park seems like it could be just the spot, as it also houses Colors restaurant, the non-profit eatery that trains folks wanting to break into fine dining, is around the corner from Detroit Seafood Market and is a short walk from the Detroit Opera House. It also means downtown will have more in the way of a wine bar. As it is now, Motor City Wine in Corktown and The RattleSnake Club alongside the Detroit River seem to be the heavyweights in the area's vino department.

This place is hoping to be much more than a wine bar though. In addition to its three 'vertical' of three wines at time, chef Knezevic says his menu will lean on using locally-sourced ingredients and include appetizers, small plates and "a comprehensive charcuterie selection and desserts." Knezevic is originally from the Detroit area, but spent the last 10 years working in kitchens of high-end restaurants in Tampa Bay, Fla. Vertical will also feature a retail wine shop, that'll also sell wines, beer and spirits. The space will seat 75, feature a modern, sleek look, include a full bar, the wine shop includes a 17-foot tasting table and will be equipped with a banquette seating area. Construction on the space, designed by Rossetti Associates Inc., began in April and is supposed to be completed in time for a September opening.