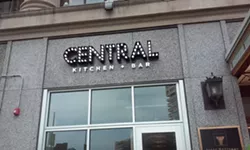 Two new gastro pubs opened their doors Monday in downtown and Corktown, adding to the increasingly crowded genre of trendy eateries in the city. Inside the he first floor of the First National Building, next to the Roasting Plant, Central Kitchen and Bar opened its doors to the public Monday. Meanwhile, Bobcat Bonnie's unveiled in Corktown, in the former home of O'Blivion's Irish-theme bar.
Central Kitchen and Bar aspires to keep up with the trend of upscaling the bar food scene, while remaining timeless, Colin Brown, assistant GM tells us. With that in mind, the spot will focus primarily on its food, to be accompanied by extensive wine, beer and cocktail lists. "We want to be able to please the foodie, but not go too far out there." On the menu is an assortment of burgers, salads and flatbread sandwiches, as well as full-scale dinner entrees. Recommended by the hostess Monday was the Central Burger and salad with roasted cauliflower.
Elsewhere at Bobcat Bonnie's, chef Beren Ekine-Hewitt previously told us that she wants her menu to appeal to the meat lover and herbivore alike, with both carnivorous entrees that can be made plant-based as well. The spot also promises to be family-friendly by day and an accessible bar hang-out by night.