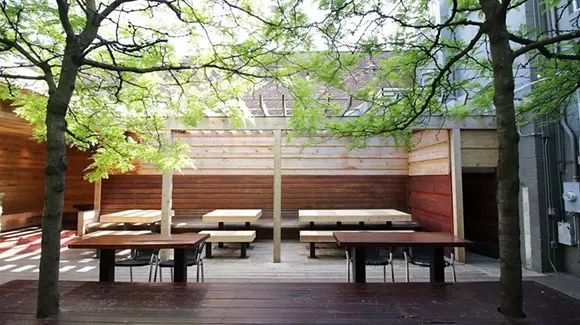 Chef Emmele Herrold is known for heading the kitchens at both the popular One-Eyed Betty's and Pop's for Italian eateries in Ferndale.
But she's recently traded in churning out award-winning burgers and wood-fired pizzas instead to launch a permanent pop-up concept in the upscale lounge, the Bosco.
Along with friend Meghan Shaw, the two will unveil Black Eagle, featuring hot sandwiches and loaded fries to complement the spot's full bar. Starting Sept. 12, lunch and dinner service will be available.
To prepare for the new addition, the Bosco is looking to hire servers, bar backs, hosts, etc.
No word yet on how this will impact One-Eyed Betty's, Pop's (and its adjoining Daily Dinette).
The Bosco, known for its upscale yet casual atmosphere and music scene, has been hinting at the change for weeks via social media. The lounge is at 22930 Woodward Ave.