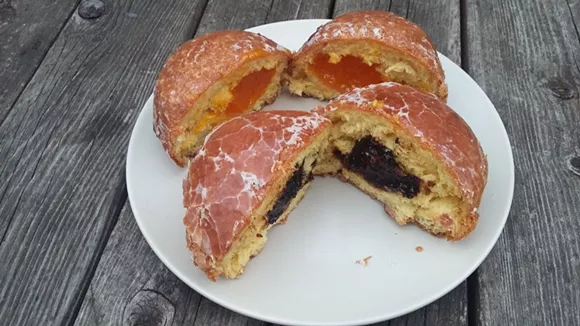 In a world of media-induced fear mongering, one would think Hamtramckans were on the verge of enacting Sharia law, shuttering all the bars it's famous for, and maybe even outlawing liquor. When the town caught national headlines last fall for electing the country's first Muslim-majority City Council, those were the types of comments we were seeing and they, well, just didn't make sense.
Sure, the city's residents, whose cultural heritages range from Polish to Eastern European, Bengali to Yemeni, and African American to hipster, run into the occasional skirmish. But it's more of the hey-mow-the-lawn type of confrontation that most other residents in other American cities encounter. And true, when an increasing number of publicly broadcasted call to prayers start making airwaves, there always seems to be folks in town who complain about the noise.
Truth is though, Catholic church bells and the Islamic
Adhan
have been in harmony for years now. We see the unity on Caniff, which is dotted with a mix of sari shops, Polish grocers, and Iraqi-owned party stores. It's found at the once parochial campus at St. Florian, which is now a charter school attended by children of all cultures and faiths.
And especially, we see it in the food. Take the Bengali-style Detroit square pizzas sold at Amar, which sits on the honorary Bangladesh Avenue. Or "New York-style" lamb gyro combo at the Desi takeout spot over on Lumpkin. And today, this glorious Fat Tuesday, we've got the immigrant-owned donut shops taking the torch of other immigrant merchant forefathers by serving up Polish paczki.
We visit one such spot, Family Donut, which sits on Conant and Caniff across from the rock 'n roll party store, every year. Mainly, it's to avoid the droves of tourists who clog up Campau to finagle a box of paczki from the signature New Palace and Martha Washington bakeries. Don't get us wrong, we love the special care they go to, to deliver authentic, creative renditions of the traditional Polish pastry. But we also can't stand long lines on snowy Midwest sidewalks, so convenience usually wins.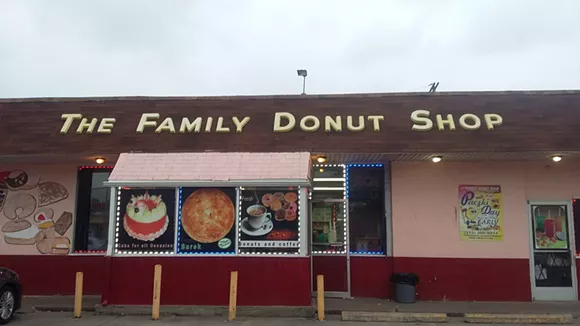 In keeping with our annual tradition, we stopped into Family Donut yesterday. While nowhere as congested as the other bakeries, the spot attracts a steady crowd of similarly-minded individuals. We see a young white lady picking up a dozen and congratulating them on making "best overall paczki" on one of the many media sites that revel in ranking the Fat Tuesday treats. A black mother and her child toting a box as they walk out the door. And several Yemeni folks placing orders and joking with the guys behind the counter in Arabic. All this to say that this place has fans from all walks.
We spoke with one such worker, Nabil Alhaiga, a Yemeni immigrant who says he's a brother-in-law of the donut shop's owner. He tells us the family took over the business about three years ago from a Macedonian family. Back then, the place became famous for its burek, a thin, baked pastry, made with flaky dough and filled with cheese, vegetables or meat. It's a cuisine commonly found in Eastern European households, and thus is another regular baked goodie found in some of the Hamtramck eateries.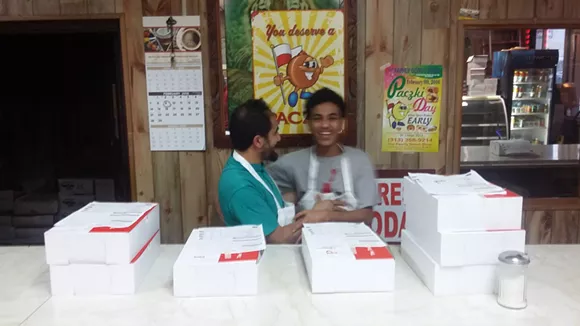 The burek remains on the menu, as does the paczki. The current owner, Mohamed Kaied, inherited the original recipe, which is said to have been the same for the past 30-plus years. One tweak, Alhaiga tells us, is that it and everything in the bake shop are prepared Halal. That means no pork lard or no alcohol-infused paczki shots. Instead, he says, they use cow lard. Each flaky, glazed pastry are filled with the same types of jelly varieties found in just about every bakery in metro Detroit. You've got your cherry, raspberry, strawberry, plus traditional plum, and others like apricot and custard cream.
We took a couple home - a plum and an apricot. Though smaller than and not as decadent as paczki found at the old-school Polish spots, that didn't matter. We still couldn't get through a whole one in one sitting. And it still gave us that sweet, satisfying taste that we crave each and every Paczki Day, proving once and for all that deliciousness knows no borders.