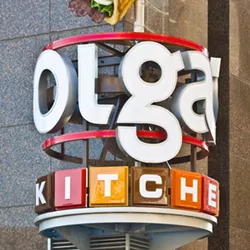 Olga's Kitchen, Inc. announced today it will immediately shutter its One Campus Martius location, just months after the popular Troy-based chain filed for Chapter 11 bankruptcy. The company has also reached an agreement with its landlord Bedrock Real Estate Services to effectively clear out of the building.
In a statement released by the company late Friday, Olga's senior VP and COO Michael Kosloski said the closure was a necessary next step for the company moving forward. "We appreciate the support of our loyal guests in southeast Michigan who are the reason for our 45 successful years in business. We look forward to continuing to serve our local community at our other locations."
The One Campus Martius location opened its doors in April 2012. An untold number of employees there will have to apply for open positions with the company's remaining 26 metro Detroit locations.
The exit from downtown came swiftly Friday, according to The Detroit News' Lauren Abdel-Razzaq, as the restaurant's oversized sandwich signage came down and windows were scraped of any sign that the eatery had occupied the space. This departure leaves a 4,000-square-foot hole on Woodward at Gratiot/State, an area which is now experiencing a wave of redevelopment. Dan Mullen, executive VP at Bedrock, said in the statement that the real estate service company will look to fill the space with another suitable tenant, preferably another restaurant. Several vendors have already expressed interest, he added.
"Bedrock was happy to work with Olga's to relieve the company of its lease obligation and outstanding debt enabling this longtime Michigan business to take an important step forward in the financial restructuring of the entire restaurant chain," Mullen said.
The chain was founded by Olga Loizon in 1970, as a small restaurant in Birmingham. While the company helped introduce American palates to "Mediterranean" cuisine, it has struggled more recently, in part because of a lack of profitability at some locations.