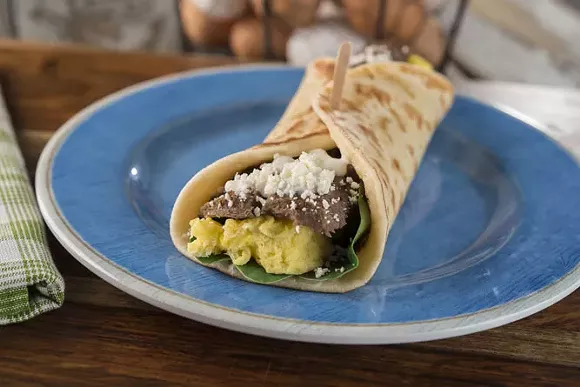 Olga's Kitchen is getting into the brunch game.
No, the metro Detroit favorite isn't serving bottomless mimosas or Bloody Marys. But the chain does have a new menu built around the restaurant's classic Olga Bread (and Snackers), which will be served until 2 p.m. on weekends.
The new menu features items such as the "A.M. Olga" (seasoned lamb and beef, eggs, spinach, feta cheese, and Olga-sauce), the "Southwest Omelet" (seasoned eggs, grilled peppers, red onion, and Monterrey Jack cheese), "Bacon, Egg & Cheddar" (Applewood-smoked bacon, seasoned eggs, and shredded cheddar cheese) and "Ham, Egg & Swiss" (Dearborn brand ham, seasoned eggs, and Swiss cheese).
Additionally, the restaurants will offer a breakfast version of its Snackers (sprinkled with cinnamon sugar and served with breakfast syrup) and Loukoumades (fried Greek donuts drizzled with honey and topped with pecans).
The first Olga's was founded in 1970 in Birmingham by one Olga Loizon, who sold the restaurant in 1976. Despite establishing itself as a regional favorite, the chain
filed for bankruptcy
in June 2015. Today the 26 restaurants are now owned by Livonia-based group Team Schostak Family Restaurants.