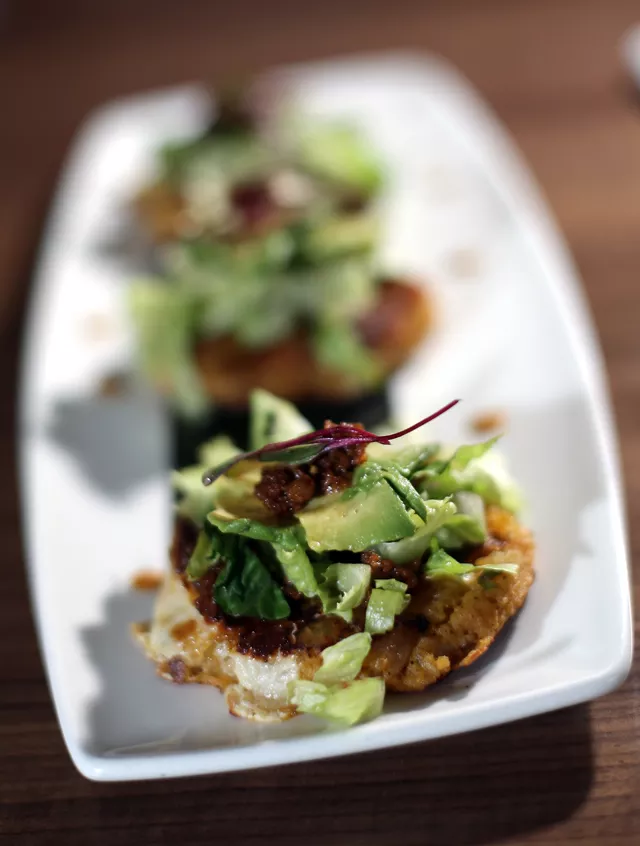 Lena
226 S. Main St., Ann Arbor
Phone: 734-994-2773
Handicap accessible
Lunch: $10-$18
Dinner: $30-$50 
Open 11 a.m.-11 p.m. Monday-Thursday, 11 a.m.-midnight Friday and Saturday, noon-10 p.m. Sunday.
Whenever a new restaurant assumes a previous eatery's space, it's hard to avoid comparisons. And for longtime customers, first impressions might be made through the rose-tinted glasses of the past. In the case of Lena, which replaced Ann Arbor stalwart the Parthenon on the corner of Main and Liberty, first impressions shouldn't be much of a problem.
Gone are the dated ersatz Greek decor and the tired cuisine that seemed stuck in time. In their place, Lena's ownership has created a modern space with an equally modern Latin American-inspired menu.
Ann Arborites familiar with the prior tenant will do a double-take when first venturing inside. The south wall was left unfinished and appealingly rough; across the room, a row of booths is set into a curved wall, creating chic, semi-private pods for dining.
The decor is clean and contemporary, but some accents serve important functions beyond their visual appeal: Two large glass vessels situated on the bar contain various alcoholic infusions — rum with raisins, gin with berries, and so on — that add a splash of color and points of interest. And a minimalist silver box with white tap handles is the top of a chilled beer tower.
That tap system is designed, in part, to support their custom-brewed chopp ($3.50), a style of draft beer native to Brazil. Traditionally, as I understand it, chopp is essentially super-chilled draft lager designed for quick quaffing from small glasses. Here, it appears more likely brewed as a mild ale in both pale and dark varieties. Neither is terribly inspiring.
If you're in a drinking mood but you're looking for something beyond beer, Lena has a lengthy drinks menu for your perusal. Cocktails are the focus, and the choices display some promising creativity. Sunday morning patrons, for instance, can choose from several fruit and spice infusions for custom Bloody Marys. And in addition to classic approaches to a margarita and a mojito, they offer some unique variations, including a delicious version of the latter made with Serrano chilies and a honey-orange syrup ($9). Not every drink is as well-balanced  — most of the cocktails on the menu are quite sweet, and they're not always consistently measured — but finding a decent cocktail shouldn't be a problem.
When the time comes to order, whether it's lunch or dinner, consider beginning with the caldo de bolas ($7), a tasty shredded beef soup with a nicely prepared, crispy, raisin-stuffed ball of fried plantains centered attractively in the bowl. It's a good value and one of the highlights of the menu.
The salads ($7) deviate a bit from the otherwise Latin-influenced theme, but for lighter fare, they're a solid bet. There's a Mediterranean-derived watermelon salad with pistachio and goat cheese, a beet salad adorned with pine nuts and avocado, and a more typical offering with greens, tomatoes and dried cherries.
Lena serves a few varieties of ceviche, including one with scallops ($8) that's definitely worth a look. Each is served with fried matchstick plantains. There are a number of small plates to choose from, especially at dinner, and they warrant investing some time and money in this part of the menu. We particularly enjoyed the seared pato ($11), portions of crisped duck breast served atop small, perfectly round polenta cakes. All the components were perfectly cooked and nicely textured.
And if you enjoy fresh sardines, Lena is one of the few places in southeast Michigan where they can be had ($11) — it's an uncommon offering and a pleasant surprise. If there's any complaint to be made here, it's that there aren't enough of the accompanying flavors — vegetables, olive tapenade — to balance the oiliness of the fish.
Main plates are, for some inexplicable reason, less exciting. During lunch, the cubano-styled sandwich is among the most popular and tastiest options. Less appealing was the Spanish yapingacho, a bland trio of mushy potato cakes stuffed with cheese and a modest amount of chorizo and topped with avocado.
Among the dinner plates, the sea scallops ($26) were a pleasant surprise — not because of the shellfish, which were perfectly fine, but because of the barley "risotto" and fava beans. It's always nice to see a local restaurant employ less-common ingredients.
On one trip, we ordered the grilled pork loin ($23), which naturally comes with the government-mandated warning about undercooked meat. Fortunately for us, there was no chance of contracting illness; the pork was so dramatically overcooked it was nearly bone dry. The flavors in the accompanying sauces, vegetables, and morcilla (blood sausage) were excellent, but the heightened potential only made the plate that much more disappointing.
If you're feeling the chill of fall, the sweet-potato gnocchi ($18) has some interesting seasonal flavors, and anyone seeking a rich meal will be pleasantly surprised by just how robust this dish is. The gnocchi comes nestled in a large, dramatic bowl with heirloom tomatoes, olives, smoked paprika, and a generous helping of a brown butter sauce.
Among the desserts, the standout is a decadent tres leches cake served with a fig jam-stuffed merengue. Impressively, the menu has changed a few times in the two months since Lena opened. On one occasion, I overheard the staff discussing online reviews, and the management actively seeks feedback via comment cards. It's clear they're committed to customers, and that's historically a recipe for success.
Evan Hansen has reviewed restaurants for Metro Times since 2010. This is his final review.