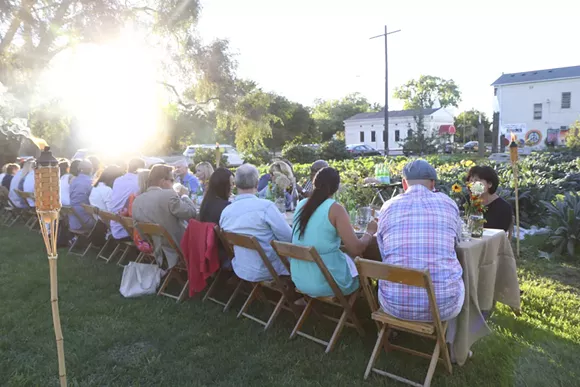 Oakland Avenue Urban Farm has been helping to transform otherwise vacant land in the city's North End for the past decade, by providing fresh produce to residents and jobs to the area's youth.
Now, the 5-acre space is looking to expand even more, with the help of a $500,000 grant from ArtPlace America, to redevelop the space into a landscape that combines art, architecture, and agriculture to create a cultural hub in the neighborhood.
Beginning next month, organizers behind the urban farm will redevelop a nearby vacant building into a community dining hall and hostel, create the Art Farm House exhibition space that will double as a community art school, and launch the North End Superette - a farm-fresh market.
The farm will also build on its culinary events, building on the success of the Detroit Grown & Made dinner series that launched there in September. The pop-up sought to highlight the talents of black chefs and farmers in Detroit.
Says Jerry Hebron, executive director of the farm: "The Oakland Avenue Urban Farm is a place where we're not only growing food, but we're cultivating youth, art and music."
Announcement of the farm's plans comes just after the Michigan Urban Farming Initiative (also based in the North End) unveiled a similar large-scale development, which the organization dubs the country's first "agrihood." The mixed-use urban space will take up three acres that currently include a number of vacant lots.
The Oakland Avenue project is expected to take two years to complete.
See also:
What's an agrihood?: Detroit's getting the country's first

See also:
Detroit Grown & Made dinner series shines light on black chefs and farmers