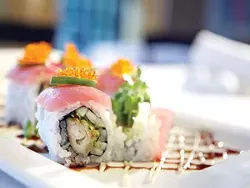 When a restaurant preparing to celebrate its 40th anniversary is still packing them in, it must be doing something right. Such is the case with Mon Jin Lau, which can attribute its success in good measure to its adaptability to our changing palates.
Marshall and May Sue Chin run the sprawling establishment at the intersection of Maple and Stephenson Highway in Troy, aided by their sons Brandon and Bryan. The brothers are responsible for the successful, DJ-driven Shanghai Wednesdays, attracting a younger, late-night crowd. Marshall's dad, Jin or Joe, came to the States in the 1920s and soon established himself as a prime supplier for all things Asian in our community. In 1969, when Mon, Marshall's mom, opened the restaurant, she named it Mon, Jin (her husband) Lau (place).
Mon Jin Lau, which seats 175 (not counting the spacious warm-weather patio) in several large and lively rooms, is one of the most extravagantly decorated of all the Chinese restaurants on this side of the river. With striking modern art on the walls, stone columns, art-deco chandeliers and palm trees all set against vibrant colors, it is light-years distant from the red booths, formica tables, metallic paper-napkin dispensers and mini pagodas of grandfather Jin's day. Its glitzy trappings and high quality cuisine has always attracted local and visiting celebrities, as attested to by the glossies surrounding the entryway of luminaries such as Bette Midler, Danny DeVito, Dennis Archer, Muhammad Ali, and George "The Animal" Steele.
Once a Chinese restaurant, Mon Jin Lau morphed earlier than others into NuAsian with a sushi bar and Korean, Thai and Japanese chefs turning out their nations' specialties. The menu is long, ranging from mundane golden oldies like egg foo young to the elaborately prepared roasted Chilean sea bass with lemongrass, red peppers, and Thai curry sauce.
The twenty-plus appetizers, averaging around $8, are highlighted by Chinese ravioli sautéed in peppers, tomatoes, and a subtle Chinese pesto sauce, tender flash-fried squid with three sorts of peppers, a generous portion of steamed mussels awash in a choice of sauces with the black-bean garlic (a winner) and ginger-garlic eggplant with woodears, pesto (again), and pine nuts served over Vietnamese rice noodles.
For $9.95 a person, you can order a mostly traditional sampler of crab Rangoon, Cantonese bbq ribs, marinated beef on skewers served on a hibachi, fried shrimp, dumplings and egg roll. Or you can opt for soup with Mon Jin Lau's hot and sour especially meritorious.
Problems begin when you have to decide among the roughly seventy-five mains, which average around $16. It pays to go to Mon Jin Lau with a crowd to maximize sampling opportunities. One poultry platter that should be sampled is longtime favorite, succulent crispy-skinned roasted duck, accompanied by scallions and hoison sauce to stuff into thin fold-em-yourself pancakes. General Tso's, sesame, Szechuan, and sizzling Thai are among the eclectic chicken preparations available in the poultry category, along with two other variations on duck.
Four filet mignons entrees are not only on the top of the menu's meat section but also, at $25.95, top Mon Jin Lau's price structure. They share the section with Korean kalbi, the unusual Mongolian rack of lamb featuring Australian chops and Thai peanut sauce, and the usual moo shu pork or beef. Seafood might include steamed or pan-fried whole fish, sizzling peppered tuna, gentle cashew shrimp with snow peas, water chestnuts and bamboo shoots and woo dip har, another venerable classic centered around pan-fried shrimp with smoked bacon, onions, and almonds in a sweet-and-sour sauce.
The noodle area of the menu includes Mon Jin Lau's inventive take on fashionably trendy Singapore noodles, laden with chicken, shrimp, peppers, scallions, and bean sprouts over angel-hair pasta. And, as in the other sections, you can select very traditional dishes such as simple fried rice with shrimp, chicken or pork. Traditional or NuAsian, the dishes are invariably arranged quite artfully on your platter.
Most of the entrée portions are a tad smaller than one finds in neighborhood Chinese hangouts, which is one way the Chins hold down prices in the most opulent Asian restaurant in town. Opulence can be seen in the very lengthy, sophisticated and, alas, pricey wine list. If you stick to the section that lists 15 wines by the glass or bottle, you can score a decent Albarino for $35 or even a musky Chilean gewürztraminer for $31. Wine mavens often recommend the latter as one of the best matches for Asian cuisine, much of which does not always accommodate the grape.
Mon Jin Lau is not especially sedate. Unlike mom and pop Asian restaurants, it is a boisterous place full of mostly non-Asian bon vivants, trying to make themselves heard over the booming contemporary music on the sound system, who may be as interested in the scene as in the versatile kitchen. If that is the case it would be a shame since Mon Jin Lau features very well-prepared, creative, and professionally served classic and nouveau Asian fare that deserves their attention.
Mel Small teaches history at Wayne State University. Send comments to [email protected]