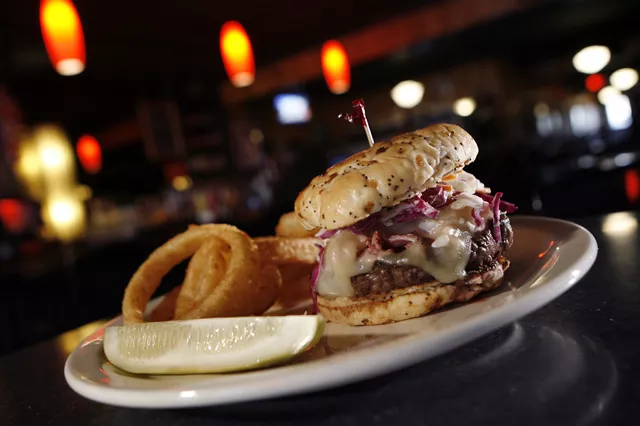 Northern Lights Lounge
660 W. Baltimore St., Detroit
313-873-1739
Handicap accessible
Prices: $6.50-$10.95
Though many MT readers may be familiar with New Center's Northern Lights Lounge as a stylish bar and performance venue, for several years the nightspot has kept its kitchen open Monday through Friday in a bid for Detroit's weekday lunch and dinner crowds.
And, for a business luncheon, you could hardly pick a snazzier joint. Not only does it sprawl throughout a large building that can seat more than 100 diners, it offers a variety of environments to dine in, including informal chairs up front by the free shuffleboard table, wraparound booths in the moodier main room, simple tables for a tête-à-tête, and even seating along the bar. (Diners at the bar can request a bar tray, a nice touch for business lunchers who don't want their ties to end up in their soup.) Finding a place to sit isn't a problem at lunch, even as regulars roll in for a sit-down meal or for large carryout orders (75 cents extra for those). The sound system unreels a pleasing mix of oldies, '80s and Motown that matches the retro charm of the interior design.
Northern Lights has a full bar, and the know-how to mix up classics and offbeat, eye-catching concoctions. We teetotaled it, but saw an ice-blue margarita come off the bar, headed to slake some fortunate tippler's thirst.
Special note: We at MT have consistently praised Northern Lights for its ladies' room. Classy and cozy, it sports a low-lit alcove and mid-century Danish modern furniture. Really. It's so nice the girls sometimes ask the guys to get a gander.
Befitting a bar menu, the appetizer section has several strong choices, the larger ones averaging about $7.50, including a batch of eight "Lava Wings" and house-made chicken strips. The fried calamari appetizer ($7.95) is especially good. Perhaps most American diners don't like their protein to look like the animal providing it, as so many restaurants seem to favor serving calamari caps cut into strips, or calamari rings only. Northern Lights' kitchen, thankfully, knows we're adults, cutting the mantles into rings and serving the crispier tentacles alongside them. It's all lightly battered, gently fried to avoid toughness, and presented in a generous bowl, complemented with red onion, tomato and capers, as well as a cup of cocktail sauce on the side. It's big enough to share.
Bar food isn't especially veggie-friendly fare, but our vegetarian co-diner comes here often and chooses a few classics on the menu. She offers praise for the nachos appetizer, which — though they can come with beef or chicken — are rich with cheese, black beans, black olives, tomatoes, green peppers, onions and jalapeños.
Similarly, the grilled veggie pita — which can be ordered with chicken if desired — comes filled with grilled-to-perfection onion, yellow squash, bell pepper, carrot, zucchini, mushroom and cheddar. Other vegetarian options include a veggie burger, hummus with pita triangles, and the small tossed salad, which comes with romaine, cukes, tomato, shards of red onion and crispy croutons.
The chili con carne ($2.95 a cup, $3.95 a bowl, add 50 cents for cheese or chopped onions) is more meat than bean, with generous spoonfuls of chunky ground beef among red and white beans, carrot, and peeled and chopped tomato, all in a light broth that's not too spicy. Other bowl-based fare includes French onion soup and the soup du jour.
Sandwiches average around $7, and include a turkey burger, a club with turkey, ham and bacon, and even a Philly cheese-steak. The simple USDA prime chuck burger ($6.95) is an excellent specimen of bar food, coming cooked to order on a smallish sesame-seed bun, offering an excellent bread-to-beef ratio in each bite. (We wish more joints would emulate this small-bun approach, especially every time we lay aside a mayo-crusted bun end.) It arrives with pickle, onion, romaine and a generous, thick-cut slice of tomato. Most sandwiches come with chips (Better Made, natch) or french fries. The fries are given a little special treatment, flecked with a light dusting of dry ranch mix (add some vinegar to bring out the ranch flavor).
There are even some more ambitious fish choices, including broiled Atlantic cod and broiled salmon dinners. Perhaps we came on the wrong day, but our salmon fillet ($10.95) was thin and a bit dry, even if it was attractively plated with a parsley garnish wedged into a ripe slice of tomato. Perhaps we should have listened to our co-worker, who swears by the kitchen's fish and chips dinner ($8.95). (At any bar, it's usually best to stick to fine-tuned tavern classics.)
Fish dinners come with two sides, and ours were of excellent quality. The coleslaw was no afterthought, fresh and light compared to many slaws weighted under too much salad dressing. Northern Lights' version comes upon a bed of romaine lettuce, finely shredded, crisp and even with flakes of herbs in it. Better still were the house-made greens. Unlike the watery or salty canned greens you may be familiar with, this cup of smoky cooked greens is dense and complex — stab it lightly and come up with a forkful, more often than not graced with a piece of smoked turkey.
All in all, if you're looking for a place for a lunch meeting or to chill out and fill up after work, Northern Lights is a sound bet.
Kitchen open 11 a.m.-9 p.m. Monday-Thursday, 11 a.m.-11 p.m. Friday; 21 and older only.