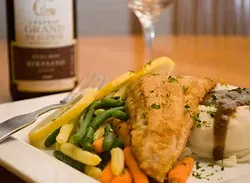 For almost two decades, the Loon River Café has been offering an Up North dining experience in Sterling Heights. Part of the Best Western Sterling Inn complex at the bustling corner of 15 Mile and Van Dyke, the café, which seats 160, creates its own rustic atmosphere with a shingle and stone exterior and a lodge-like interior flaunting the obligatory moose head over a huge stone fireplace, fishing and hunting prints, stuffed animals, a full gun rack, and other outdoorsy paraphernalia.
Chef Ray Hollingsworth, who has been there since the start, took home gold medals at a National Restaurant Association cooking competition in Chicago and at the International Culinary Olympics in Germany, and won a Michigan chef-of-the-year award as well. He promises some retro changes in the fall, reinstalling old favorites such as duck and elk that are no longer on the menu. 
That is an inspired idea, since much of his current culinary repertoire, aside from the terminology, is not especially Northern Michigan. For example, the heaping Up North appetizer platter, a deal at $8.99, includes cluckers (chicken wings), buckshot mushrooms (battered fungi infused with pepper cheese), onion petals, cod fritters and the highlight, crisp sweet-potato discs. All this sounds familiar, as do other starters, such as crab cakes and a chicken quesadilla that can be found these days in most any U.S. eatery.
On the other hand, the gently seasoned, thick whitetail chili, featuring venison chunks, is a pleasing mélange one might encounter at a bar in Leelanau County. The same goes for the Michigan cherry salad that is special because of the plump and juicy (instead of desiccated) cherries one finds in comparable salads in our area — or even in Empire or Leland. 
As for other firsts, on one occasion, the cheddar-cheese potato soup was a bit salty, a criticism one might also apply to the smoked pork chop among the entrées.
Those looking for a light meal can choose Buffalo chicken salad with slightly assertive pieces of chicken, along with onions and blue cheese, mercifully not drowned in a ranch dressing. Cobb, Caesar and grilled-salmon Dijon Caesar are among the rest of the greenery.
Most of the mains range from $11 to $19. The Lake Shore portion of the menu is highlighted by walleye from renowned Red Lake, Minn., and Keweenaw whitefish from Lake Superior. Both can be ordered in a variety of ways, with the moist and nutty-sweet sautéed walleye a winner, while the whitefish is enhanced with bacon. Hollingsworth moves from our Third Coast to the Atlantic for cod and shrimp. 
The accoutrements that come with deserve recognition. The thin green beans and carrots arrive at the table al dente and the rice is enlivened with raisins.
A grilled buffalo rib-eye ($20.99) from a Michigan purveyor is one genuflection to the Loon River's theme among the meats. You can also find buffalo as one of the burger selections. Although the all-American Texas-T-bone, filet mignon with bacon and blue cheese and tenderloin steak with wild mushrooms in a smoked-Gouda sauce are generic again, the local theme reappears with Midwest pot roast and, especially, the smoked pork chop with roasted apples. However, the chop might be somewhat less than "juicy" as advertised.
You can sample a mini-sirloin steak, one large pork chop and a half portion of one of the fish specialties in the Midwest mixed grill, which is quite reasonably priced at $16.99.
Other entrées include chicken over penne pasta, Spanish chicken fettucini with garlic, peppers and olives, and seafood fettucini with shrimp, salmon, crab and mussels. But beware, most of the chicken and pasta dishes are finished with artery-clogging Alfredo or other cream-based sauces.
The sandwiches range from wraps featuring fried chicken or cod fritters to grilled crab or turkey breast baked in focaccia. A thick half sandwich and soup of the day ($7.50) makes for a filling lunch or even dinner. For an extra $2, you should add superior French fries to your signature Stinky Burger of Black Angus garnished with mustard, cheddar cheese, horseradish and green onions ($8.99).
The majority of the bottles on the short but well-selected wine list are less than $30. These can be drunk, along with a nice array of beer and spirits, at the handsome elevated wood-paneled lounge adjacent to the dining space. 
From September through April, Hollingsworth organizes periodic game dinners that center around such entrées as antelope steak, quail and venison stew. And during much of the week from 2 to 5 p.m., he offers a $6.95 seniors' dinner with an assortment of traditional mains for those very-early-birders.
This difficult summer, some Detroiters may have reluctantly decided they cannot afford their traditional Up North vacation. Although the Loon River Café is quite distant from any river or one of our state's pristine lakes or dense lush forests, it does provide a bit of that ambience for a few hours — for those of us compelled to stay closer to home this season.
Mel Small has been dining for MT off and on for three decades. Send comments to [email protected]