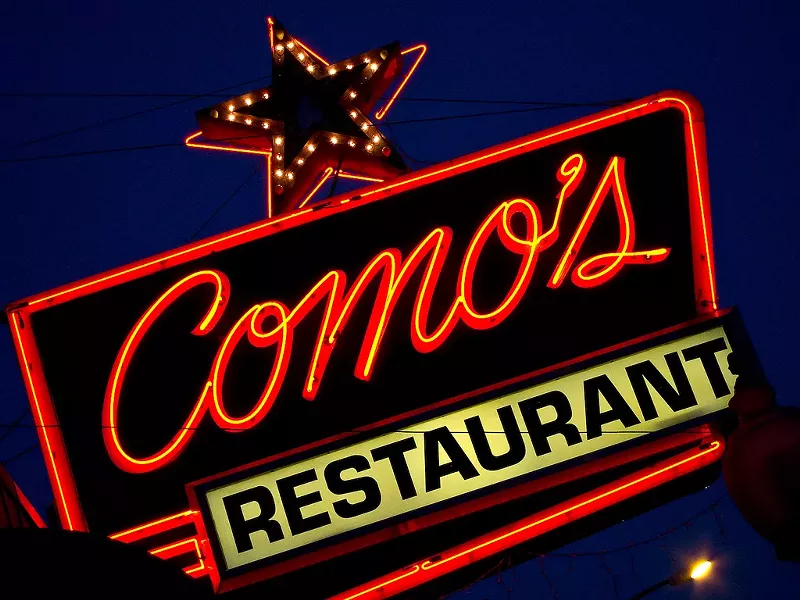 Chef Zach Sklar's Peas & Carrots Hospitality Group announced Wednesday that it will take over Ferndale's Como's and build out a new "pizza-centered" Italian restaurant.
The restaurant group, which owns 12 other businesses in metro Detroit and Chicago, says it plans to "pay homage to the original restaurant by keeping the name Como's and offering nostalgic, mouthwatering pizza-centric cuisine."
The restaurant will open sometime in 2019.
While Como's was a well-loved Ferndale fixture since 1961, it suffered from poor management and declined in quality in recent years. The Oakland County Department of Health shut down the Nine Mile and Woodward Avenue pizzeria twice in the last two years over health code violations.
In that way, it may seem risky to attach oneself to the Como's name, but the company explains that there's a nostalgic element to the decision.
"Sklar jumped at the opportunity to purchase the restaurant he frequented during his childhood, thrilled to become part of the community and help activate one of the most well-known areas of Ferndale," Peas & Carrots said in the release. "Sklar's plan to maintain the well-known namesake is just one of the ways he will preserve the community aspect of the restaurant."
Sklar adds, "Ferndale is socially liberal, inviting, and aligns with our company's mission of acting as a melting pot for an eclectic group of people. We love that Ferndale wants to remain Ferndale and values those family-owned style restaurants. Even as we have grown, we've managed to retain that sense of belonging, and we know that Peas & Carrots Hospitality is a great fit for the Ferndale neighborhood."
The new Como's, at 22812 Woodward Ave., will also have a "generous offering of beers on tap."
The 8,000-square-foot location will hold indoor and outdoor seating as before, and the upper levels will serve as the Peas & Carrots' home office.
Peas & Carrots didn't provide a purchase price, though former owner George Grego had the restaurant on the market for $4 million at one point.
Following the launch of Social Bar & Kitchen in downtown Birmingham, Sklar created Peas & Carrots in 2012. He and partners Jim Bellinson and Josh Humphrey opened Mex in Bloomfield Hills in 2013, Beau's Grillery in 2014, Bernie's Lunch & Supper in Chicago in 2015, Social Kitchen & Bar in Grand Rapids in 2016, and Mex at Great Lakes Crossing in 2017, among others.
Como's will mark Peas & Carrots' 13th restaurant opening in six years.
So many restaurants, so little time. Find out the latest Detroit dining news with our weekly food newsletter delivered every Friday morning.