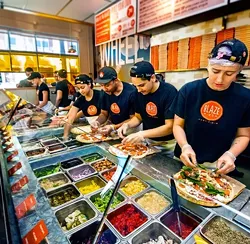 We've never turned down free pizza and we're not about to start now.
In honor of fast-casual "artisanal" chain Blaze Fast-Fire'd Pizza's opening on Monday, March 21 in the Fairlane Green Shopping Center in Allen Park, the franchise will give away free pizza pies on Tuesday, March 22 to anyone who follows Blaze on Instagram, Twitter, or Facebook.
The deal runs from 11 a.m.-11 p.m. Tuesday.
This is the third Blaze location for metro Detroit, with outlets in Royal Oak and Novi Town Center. The southern California-based chain is known for its custom-built pizzas, in which customers line up and customize their pies, choosing from a variety of toppings for personal pizzas.
The new Allen Park space is 2,600 square feet, seats 86 indoors, and another 32 on its outdoor patio. It's located at 3129 Fairlane Drive, across the street from the Home Depot.
The company says its pizza giveaway record stands at 2,700. Won't you join in and help beat that record?