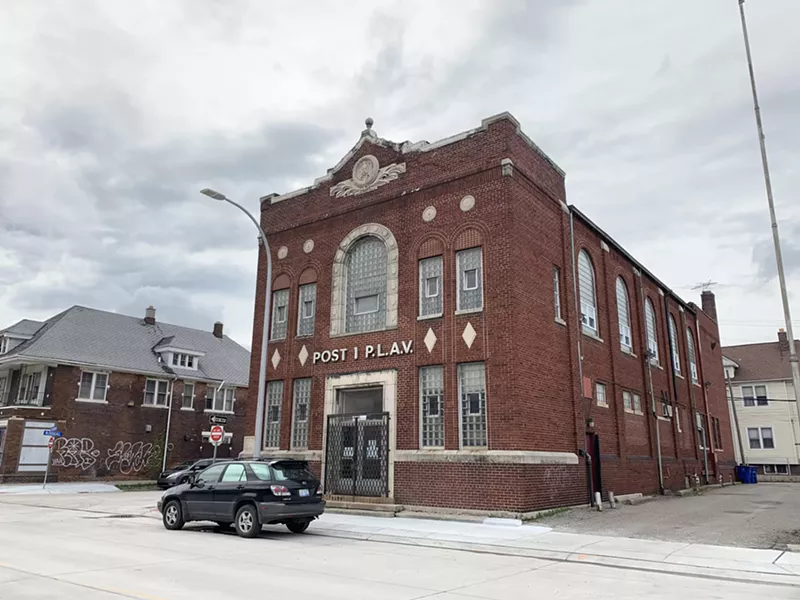 A new two-screen "dine-in cinema" and bar are in the works in Hamtramck's underused Post 1 P.L.A.V. building.
The Film Lab is planning the project, which will roll out in two phases. A full bar and weekly screening series is planned for summer 2019, while the dine-in cinema will be ready sometime in 2020.
The first floor in the nearly 100-year-old building at 3105 Holbrook Ave. holds the original marble bar and retro wood paneling from a remodel, and "the space will pay homage to these two design eras, combining art deco motifs with '70s swagger," the Film Lab said a press release.
The screenings will take place in the bar until the second floor cinema construction wraps up. The bar will feature "themed drink specials" along with rotating food pop-ups.
Programming will range from "seedy cult classics to new restorations of rarely seen masterpieces to the latest in award-winning films from the festival circuit." The Film Lab is also planning events for the area's Polish, Bangladeshi, Arab, Pakistani, and Balkan communities.
Once its completed, the two-screen cinema will continue to host Cinema Lamont's programming along with filmmaker Q&A sessions, panel discussions, workshops, and collaborations with local film festivals.
"Our end goal is that the Film Lab will foster a diverse community of film lovers and makers spanning citizenship, ethnicity, and language through inclusive dialogue and the arts right here in Detroit," The Film Lab said in its release.
It adds that the group is "a collaborative venture between Josh Gardner and Lara Sfire. Josh Gardner is the founder of Cinema Lamont, a nonprofit that fosters cross-cultural understanding through the power of world cinema. Cinema Lamont has presented over 100 pop-up screenings around metro Detroit."
Sfire is the founder of the Film Shop Detroit, a collective of filmmakers who share works in progress, and a member of the Final Girls, a collective of female filmmakers in metro Detroit.
"I'm thrilled to return to my hometown and create a space for the Detroit film community to congregate and build connections. We can't wait to see this place open!" Sfire said in the release.
So many restaurants, so little time. Find out the latest Detroit dining news with our weekly food newsletter delivered every Friday morning.