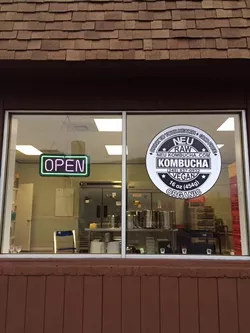 What started off as a side thing for Jennifer Neu, while she worked at Cacao Tree Café has turned into a full-time business of producing her light and slightly sweet version of kombucha, a healthful beverage that's been gaining traction across the country for its restorative qualities.
Neu Kobucha opened a full-scale manufacturing, wholesale, and retail space today at 33305 Grand River in Farmington. She and husband Julius Sipkay started making kombucha, an effervescent, fermented tea, while she worked at the Royal Oak raw vegan bar as part of her job duties. Soon the organic elixir began catching the attention of other retailers and restaurants, including the Royal Oak Farmer's Market, Brooklyn Street Local in Detroit, and longtime vegetarian staple, Inn Season Café in Royal Oak. In the last year, interest in Neu Kobucha has grown to include sales at Eastern Market and Try it Raw in Birmingham.
Lately, the couple had been making their concoctions at Cacao Tree, producing about 500 bottles a week. Now in their 1,000-square-foot space, they're aiming for 1,200 a week.
Kombucha, rich in vitamins B and C, amino acids, digestive enzymes, and probiotic qualities, has been a hit in other cities like New York and Los Angeles, where fans can enjoy their favorite varieties at bars that specialize specifically in the stuff.
While Neu tells us the new space will not include a bar, she says she hopes that will be in the future for the growing craft drink company. For now, the Farmington location will serve as the couple's primary manufacturing base, where customers can also place wholesale and delivery orders or purchase individual bottles.
For Neu, 38, the idea of opening a business of her own wasn't part of her plan. She had spent most of her career working in restaurant kitchens. But as she and Sipkay began improving their production techniques and gaining popularity, running a company started to make more sense. With the support and example of her father (he also has a background as an entrepreneur), and her passion for making a product that's not saturated in artificial colors or flavors, the couple were able to make a go of it.
"It's pretty exciting, I never though I'd have my own business," Neu tells us. "But it's great to be able to help people and having that freedom."
Click here for more of Neu Kombucha's beginnings.