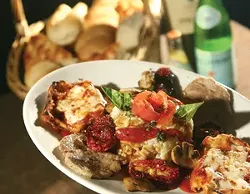 In a culinary era dominated by chains in all price ranges and ethnic specializations, it is always heartening to come across an unheralded neighborhood restaurant that has been quietly turning out respectable meals for a generation or so. Such is the case with Franco's Café, located in Troy in a prosaic strip mall on Rochester Road.
Franco Giorlando and his wife Anna Maria opened their comfortable trattoria, now managed by their son Chris, in 1990. The simply decorated, dimly-lit room that seats 120 is notable for two unusual features. Each of the three main walls is painted a different subdued tone — red, green and pale mustard — suggesting, almost, the tricolore of Italy. Moreover, the white-clothed tables are complemented with padded easy chairs. This feature defies the restaurateur's rule to employ marginally uncomfortable seats to guarantee that patrons won't take up valuable space lingering over coffee.
And it is tempting to linger at Franco's considering the artful manner in which the owners have disguised the fact that you are sitting in a strip mall with cars whizzing by on Rochester Road.
The Giorlandos, Sicilians who emigrated to Milan before coming to the United States, offer heavy red-sauced dishes with the pastas averaging around $13 and the other entrées around $18 including soup and salad.
Among the regular soups, the subtle chicken pastina full of miniature pasta tidbits, a cousin of Italian wedding soup, is a better bet than the unassertive minestrone. On the other hand, the soup of the day might be a surprisingly assertive tomato lobster bisque. Although the mostly iceberg-based salad is not much of an attraction, the "famous" bread basket full of warm and crusty bread is worthy of Franco's self-praise.
Despite the substantial nature of the dinner, the comparably substantial compose-your-own appetizer tray ($20.95), in which you choose four from an array of seven, is a pleasant way to pass the time as you mull over the lengthy menu. Of the four we opted for on one occasion, the roasted peppers with garlic and basil stood out among the salty and heavily battered, if tender, fried calamari and the slightly soggy slices of otherwise decent foccaccia with Ammoglio (tomatoes, garlic and basil) sauce. In addition, the fried mozzarella sticks, something we would not have ordered on our own, clearly met with the approval of the tots at our table.
Other starters are fried mushroom caps, prosciutto, melon and mozzarella, Caesar salad, antipasto and a grilled chicken and fruit salad that you might not find on the menu in Naples.
Franco's hearty pastas, which include such familiar preparations as ravioli, spaghetti carbonara, fettucine Alfredo and linguini with clam sauce, and a few unfamiliar ones such as linguini a la shoemaker with spinach, can be enhanced at a modest extra charge with meatballs, sausage, mushrooms, chicken, veal or shrimp.
Hearty as well is the upscale variation on sausage and peppers — veal tips cacciatore with peppers, tomatoes, onion and mushrooms served over pasta. Veal also appears in its piccante, Marsala and parmigiana variations. The same preparations appear in several of the chicken selections, with the piccante sauce suitably tangy if a bit dense.
Among the pesce, the crisp and tender sautéed shrimp scampi over rice laced with olive oil and just the right amount of garlic is a well-executed dish. There are a number of other marine selections as well as the expected steak and chops with a variety of sauces. Filet mignon and lamb chops top the price list at a still reasonable $20.95. Many of the entrées are accompanied by a welcome pasta side.
You can wash all of this down with reasonably priced wines, with the house pours, some Californian some Italian, going for $24 a liter. You can also score an earthy Montepulciano d'Abruzzo for $19 or a light Verdicchio for $26, and domestic beer for $2.50. Teetotalers might want to try some of the 30 Italian soda and coffee flavors that range from apple and apricot to tamarindo and vanilla.
Although it is unlikely you will opt for dessert after polishing off this trencherman's treat of a meal, the rich and moist tiramisu is preferable to the cannoli. Dessert is included in the family-style dinner ($19.95 for two or more) that is constituted of soup, salad, pasta and an entrée.
Adventurous bambini will be pleased to see that their menu not only offers them burgers, pizza and chicken tenders but also ravioli, spaghetti, mostaccioli and even fettuccine Alfredo.
Franco's Café is unlikely to win many kudos from those who favor lighter northern Italian cuisine or Mario Battali food groupies. But in its class as a family-friendly neighborhood restaurant that provides generous portions of traditional fare, it impresses, especially when considering the cost-benefit ratio during our Republican recession. And it is satisfying to give the Giorlando's the business instead of those cookie-cutter chains whose management is not based in Detroit.
Mel Small teaches history at Wayne State University. Send comments to [email protected]