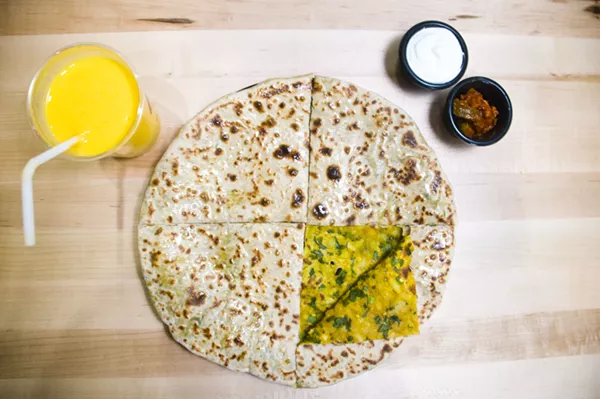 Two metro Detroit restaurants made different national outlets' top restaurant lists during the last week.
Thrillist
ranked NeeHee's Indian vegetarian street food among the country's best 23 Indian restaurants, while
GQ
magazine said Lady Of The House is one of the nation's top 10 new eateries.
In its blurb on NeeHee's,
Thrillist notes
the Canton and Troy restaurants' "expansive menu" of Indian street food and South Indian classics.
Everything here is vegetarian, but you definitely won't miss the meat. Pick up one of the sandwiches like the Samosa Pav, which layers a crispy fried samosa, chutney, and crushed peanuts between two grilled buns for a carb-bomb that will put a satisfied smile on anyone's face. Or grab an order of the paneer pakoda, which are deep-fried squares of paneer coated in a chickpea flour batter and served with both mint and tamarind chutney for dipping.
GQ
finds chef Kate Williams' new Corktown
restaurant to be an inviting and personal spot, one where "everybody knows your name and your personal pedantic demons."
Kate Williams's Corktown tavern feels like a midwestern twin of Chez Ma Tante, down to their coolly modern dark-wood interiors. One of my favorite single dishes of the entire year was Lady of the House's "Parisian Ham"—a simple plate of slow-poached French-style ham, shaved thin but in slices that still offer a pleasantly spongy bite. It is served on a plate accompanied by a small dish of butter whipped with Dijon mustard and fermented honey, and it takes you a moment to realize what's missing: There is no bread. You look from the ham to the butter, from the butter to the ham. You glance around: Is this some kind of test? Is there a two-way mirror somewhere? Am I supposed to just…butter the ham?

You do. It is great.
The news comes just after
Food & Wine named Ferndale's Voyager
among the nation's top 10 restaurants. Check out our review of LOH
here
, and our review of Neehee's
here
.
So many restaurants, so little time. Find out the latest Detroit dining news with our weekly food newsletter delivered every Friday morning.