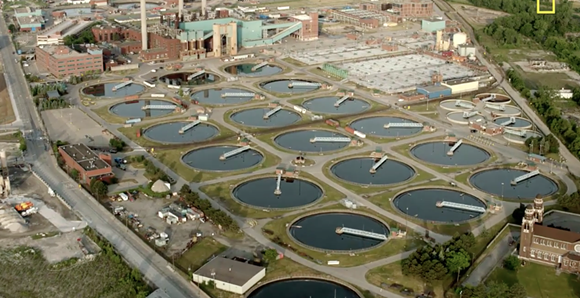 Michigan sits in the center of Great Lakes region, the world's largest fresh water source, and yet the state is now infamous for water crises in which its poorest residents are left to drink poison water, or no water at all.
How exactly does that happen? The National Geographic Channel explores the deeper origins of and the link between the Flint water crisis and Detroit water shut offs in
Parched: Money Flows
, an episode of a short series on the nation's various water-related problems.
It's not much of a spoiler to say that Wall Street greed is a big part of the equation, and Emmy-award winning director Jed Rothstein reminds us that there's a different narrative than "poor people don't want to pay their water bills."
In the early 2000s, inept/corrupt city government officials, contending with the dramatic population loss that left Detroit unable to pay its municipal bonds, entered the city into complex, risky loans that were, essentially, bets with Wall Street on interest rates. The city lost the bets, of course, and those loans were the final nail once the recession hit. All this leads to the spiking water costs that precipitated residents failing to pay bills and Flint's decision to switch water supplies.
Rothstein looks at the cast of villains involved in the deal, and includes interviews with former Detroit emergency financial manager Kevyn Orr, as well as former Detroit Water and Sewerage Department director Sue McCormick, who first ordered the shut offs.
But Rothstein also puts a human face on the issue in featuring a Detroit family whose landlord didn't pay the water bill — leaving them with no drinking water, the gross task of scooping their toilet clean instead of flushing, and a basement filled with human waste. Others like former
MT
investigative reporter Curt Guyette and activists fighting on behalf of residents offer their input in a well-rounded collection of viewpoints. While there's hope and reason in the latter batch of interviews, the missteps, corruption, negligence, and disregard for the poor that led to and continue to fuel the issue — 80,000 Detroit residents are still without water! Flint still has problems! — is enraging.
The three-part
Parched
series also looks at water-related conflict and the potential for war over water supply, as well as corporate contamination of water supplies in California's Central Valley and the Ohio River. And in a separate-but-related two-hour feature documentary,
Water and Power: A California Heist
, Zenovich takes on the California's water issues in what's billed as "a real-life version of the 1974 film noir
Chinatown
, as it peels back the layers of California's history of water manipulations."
Catch the Michigan episode on the National Geographic Channel at 9 p.m. on Tuesday, March 21.
Water & Power: A California Heist uncovers the exploitation of California's water supply. #WaterAndPower, March 14 9/8c pic.twitter.com/mrthl4AwoY

— Nat Geo Channel (@NatGeoChannel) February 20, 2017