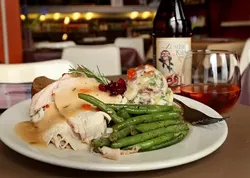 Mudgie's
1300 Porter St., Detroit
313-961-2000
mudgiesdeli.com
Handicap accessible
Sandwiches: $8.25-$10.50
Open 11 a.m.-9 p.m. Monday-Saturday, 11 a.m.-4 p.m.; delivery 11 a.m.-3 p.m. weekdays.
You've never seen a happier restaurateur than Greg Mudge, now that he has a liquor license, since Jan. 31. And a happy Mudge makes for a pampered clientele. Has there ever been a more hands-on owner?
Mudgie's hardly needs a review to encourage discerning customers. It's voted Best Deli in Wayne County every year by MT readers and even got a nod last year from Oakland-based Hour magazine for Best Sandwich. But the new, short list of wine, beer and mead deserves mention, if only because of the proprietor's generosity in sharing them around.
I went twice in a week, and twice Mudge offered our party a Goodnight Bodacious from his limited stash of just one case. This is a double black India pale ale from Short's Brewery up North, "so strong and dark that it defies convention," according to the brewmaster, and it was newly available in a bottle.
The first outing, the main drinker fell in love with Bodacious and wanted more to take home (not permitted yet). The second time, the imbiber was less thrilled — so Mudge brought her a free bottle of the Poet stout from New Holland Brewery, which everyone could agree was rich with roasty coffee flavors.
Mudge brought us some uncooked hops to sniff too. And offered a $15 bottle of wine that would have brought him far less profit than by-the-glass. It was as if he were a kid with a new toy and we were his favorite aunt and uncle, the kind who are always ready to be pleased.
The 11 regular beers are all-Michigan, ranging from nonchallenging brews like Bell's Winter White to Founders Porter (Grand Rapids) and the Poet; wine is from Black Star Farms in Traverse City. Mudge notes, though, with understatement, that "there's a lot of good wine out there that's not from Michigan," so he plans to expand those horizons.
Four meads from B. Nektar Meadery in Ferndale are on the menu because Mudge is a big fan. I regret not sampling the Michigan wildflower variety. Who knew the base of a mead could be not just honey but cherry juice, even grapes?
But folks probably won't go to Mudgie's just to drink, though he's counting on an uptick in nighttime business. The most popular sandwich remains the Madill, with turkey, bacon and avocado, alongside the Sho' Nuff; substitute strawberry cream cheese and preserves for the avocado.
Personally, I wouldn't choose those two over another top-seller, the Barrett, a Reuben variation: Sy Ginsberg corned beef, cole slaw, Swiss cheese and Thousand-Island. Served warm, the house-made slaw crisp ("fresh shaved"), it's a perfect combination of textures and tastes. A traditional Reuben is fine, too, with excellent beer kraut and your choice of three mustards, also house-made, as is just about everything. Try the cream mustard, good and horseradishy.
To my mind the best buy is a bowl of soup and half-sandwich for $9.50, and Mudgie's soups are super-thick. Northern bean, for instance, is subtly spicy, and beef noodle has a strong broth and generous slices of chewy beef.
Though served as open-face sandwiches, one portion of the menu is called "Comfort Food Dinners." I liked the meatloaf, which is appropriately open-weave (a tight meatloaf misses the point) and spicier than Mom's. It's served with warm potato salad. A red-sauced pasta is also welcoming, and you can design your own by throwing in any of 11 ingredients, such as bacon, smoked salmon or artichokes.
Mudgie's old standby desserts still please: the warm brownie waffle with ice cream, the bread pudding waffle with horchata ice cream, an inspired combination. Each is big enough for three.
Look for Sunday brunch to be reinstated by the end of February, with mimosas and Bloody Marys to drink with quiche, sausage gravy and biscuits, bacon waffles with maple syrup, and custom omelets.
What you should really look forward to, though, is spring, when Mudge will break out the smoker. Last year he put on a project to serve a weekly sandwich named after each state, which has just finished up (Maine lobster rolls, West Virginia biscuits). A lot of the innards of those sandwiches were smoked meat, and Mudge did it himself outside the restaurant, sending irresistible smells wafting through the neighborhood and the little park across the street. "It definitely got people walking up," Mudge remembers.
The restaurant's five-year anniversary celebration was Feb. 9, which means he took over the former Eph McNally's not long before the crash. "It was all we knew," he said, and counts suriving the bad economy as his biggest success.
Others would find lots more to brag about in this neighborhood gem, and it's fitting that a local champ should get a shot of booze for a birthday present.
Jane Slaughter dines for Metro Times. Send comments to [email protected]