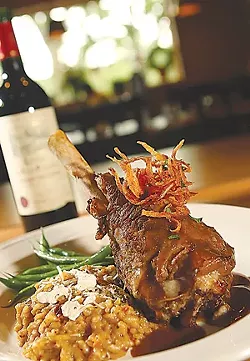 The Grosse Pointe regulars have been waiting a long time for this day — neighborhood staple Jumps has expanded, spruced up and acquired a liquor license.
Jumps was long an oddity — fine dining in a basement, with no booze. Hordes of Grosse Pointers ate there anyway because of the excellence of owner-chef Chad Stewart's breakfast, lunch and dinner. As of July 14, those who need a cocktail or a glass of wine can be as happy as the rest.
The new restaurant is one floor up from the basement digs, with a refined GP-style decor. Booths and banquettes are upholstered so cushily that they're bouncy. New silverware is handsome and heavy, long-handled with curvy knives.
The best choices, and best deals, are the appetizer samplers. For $8 you get scallops, puff pizza and an onion tartlet (hot), or gravlax, shrimp cocktail with a red-onion-stuffed avocado, and buffalo mozzarella brûlée (cold). As is also true of the soups, salads, desserts and entrées at Jumps, portion sizes are very generous; most restaurants would charge $8 for just one of these starters.
When I visited on the staff's fourth day in the new place, the scallops were perfectly caramelized and garnished, everything a scallop should be, and, oddly, topped with mashed potatoes. The puffy pizza, under-stuffed with a vegetable-mix, was light as air. The pastry in the sweet, tender onion tartlet appeared to have been lavished with as much attention as if it were a starring dessert. The gravlax (a Swedish version of lox, cured with dill) was mellow, the degree of dill just right. It came with a salty deviled egg. My only semi-complaint was the shrimp, which weren't as fresh-tasting as they should have been.
This was also true of two other fish dishes — whitefish Napoleon and salmon in phyllo, both a bit stale-tasting. The whitefish had an unfortunately elaborate crust that would have detracted had the fish been better. I'm hoping that these lapses were due to it being early days, but caution kept me from ordering the perch or the lobster pasta when I returned a week later.
Also a problem was London broil, which was full of fat and gristle. Of four entrées sampled on Day 4, only one, thick and moist pork loin, met our expectations for the old Jumps, let alone the new one.
A week later I ordered an old Jumps standby, fettuccine with chicken and house-made Italian sausage in cream sauce. It was perfect, one of only two dishes held over from the downstairs menu. There were tomatoes, squash and scallions; the squash seemed to have been picked that hour, and I swear every bite tasted different from the last. At $15, the least expensive entrée of 11 on the menu, it was the best I tried. And anyone who could finish the entire plate should not be ordering anything else.
A neighboring diner (some tables are very close together) had asked for marinara instead of cream sauce on his fettuccine and was accommodated; this is a longstanding feature of Jumps, a willingness to oblige by tweaking the dishes to patrons' desires.
My companion ordered lamb shank, which was huge and tender — but it tasted like beef pot roast, in her and my opinion, or like turkey leg, if you asked my other neighbor, who'd ordered the same thing. It was served with a creamy tomato risotto.
More reliable were the soups: a big bowl of cream of asparagus, complex and rich, or a sweet roasted corn chowder, thin and buttery, with whole kernels.
A fine Caesar salad was made with anchovies in the house-made dressing — a surprise and delight. Oddly, several of the salad's other ingredients were spelled out on the menu, but not the one that causes so much controversy (Google the Caesar to read about its history). Customers can also ask for anchovies in the salad itself. Another good salad was the Michigan, which, in addition to the required-by-state-law cherries, includes pecans and white cheddar. If you don't like the sound of maple-raspberry vinaigrette, just ask for something else.
For dessert, Jumps serves ice cream from Ray's in Royal Oak as well as house-made treats made by co-owner Mavelle Stewart's son Brandon Kokoscki, once of Seldom Blues. I liked an apple-almond-cherry bread pudding (again, generous) though I couldn't taste any bourbon in the bourbon custard sauce. Blueberry- and strawberry-topped raspberry crème brûlée had a wonderful crackly crust but unfortunately tasted just like raspberry yogurt, something we should have foreseen. The crème brûlée changes every day and thus far has been flavored with Grand Marnier, passion fruit, blood orange and chocolate, but not vanilla.
Judging by the menu, the kitchen seems to put as much effort into breakfast as into dinner. The list changes every weekend, and three different Benedicts are offered on Sundays. Cheese blintzes, a triple-grain waffle with peaches and Grand Marnier sauce, fresh muffins, a duck omelet — all can now be had with a Bloody Mary or a mimosa.
Mavelle Stewart describes the beginning wine list, devised with help from Viviano Wine Importers, as "not extensive," starting with 15 choices. Bell's Oberon is on tap.
I feel rather confident that Jumps' kitchen under chef Jake Abraham will remedy the food glitches I encountered early on. After all, as Mavelle Stewart points out, what with the invisible location and no alcohol, "for 19 years food was the only thing that kept us in business."
Jane Slaughter dines for Metro Times. Send comments to [email protected].