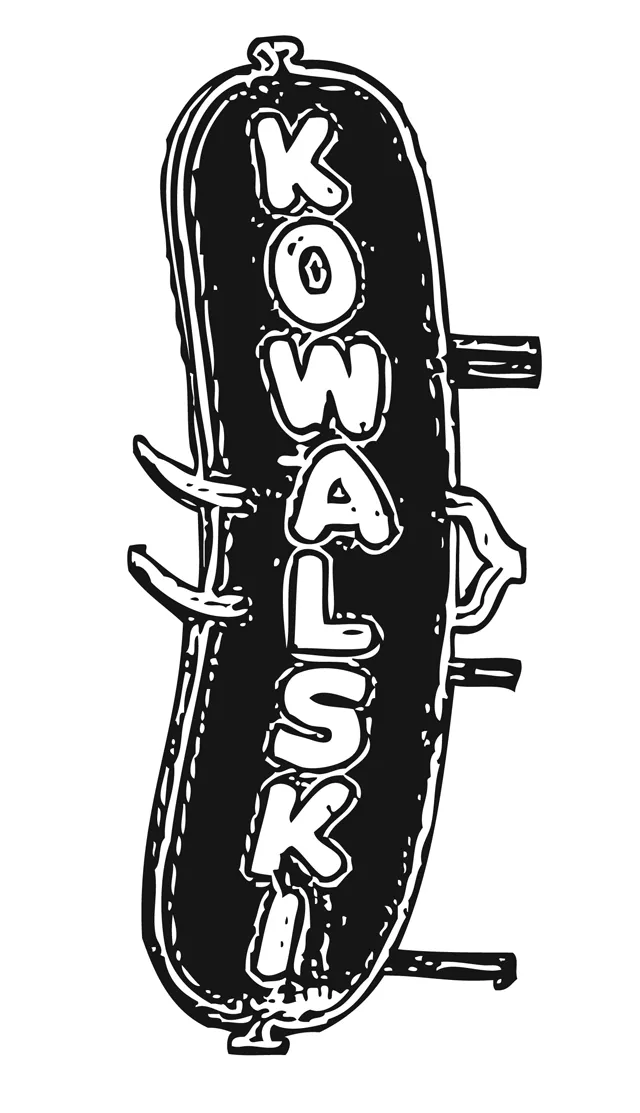 Because of this week's Blowout, we're presenting this handy shortlist of Hamtramck's humble culinary destinations. They're uncommonly cheap, sometimes open late, and are often off the beaten path. But at any given hour of the day, these joints are there to lay the foundation for a night's drinking, quell late-night hunger pangs, or nourish away that morning hangover.

Al-Qamar Halal Pizza 10240 Conant St., Hamtramck; 313-875-5592; $: Even though Al-Qamar is known specially for its halal pizza, the menu isn't limited to that alone. A huge variety of subs, shawarmas and gyros are also a popular hit among the customers. Keeping up with the authenticity, Al-Qamar even has great Mediterranean dishes. The best part is you won't have to spend much on a delicious meal, because the prices are very affordable. Falafel sandwiches are only $2.50 Set up as more of a fast-food restaurant, your orders are cooked quickly, so you won't have to wait long to eat. If you don't feel like leaving where you are, Al-Qamar also provides a delivery service.
Aladdin Sweets & Café 11945 Conant St., Hamtramck; 313-891-8050; $: Last year, this was just a small, neighborhood place, lacking cloth doilies and polished steel cutlery, serving food on plastic plates and beverages in polystyrene cups. But what Aladdin lacked in china and stainless steel it more than makes up for in flavor and authenticity. And now, after an expansion last year that doubled the dining area and added an outdoor patio, it's bigger than ever. The food, however, has mostly retained its quality. Instead of complex preparations, try the simple choices on the menu, such as chick peas and spinach, to see how these humble beans and greens come to life when expertly spiced. Don't miss the excellent and hearty naan bread, including the bread with potato baked into it. This small, lively spot is much more than a sweets shop, and whole families regularly cram into its small booths, which often makes the shop lively on the weekends, in a kid-friendly sort of way. No alcohol is served.
Amar Pizza 11608 Conant St., Hamtramck; 313-366-0980; $: Hamtramck's Bangladeshi strip is heating up with all sorts of interesting food choices. There's even a Bangladeshi pizzeria. Yes, it's true, and they serve it up round, square, even deep-dish-style. They even have a naga sauce they'll put on the pizza, reminiscent of jalapeno but spicier and more fragrant. They'll sell you an impressive Chicago-style pizza or a Detroit-style deep-dish for just $5. Be prepared for a wait of about 45 minutes if you want the Chicago-style, or at least 20 minutes for Detroit deep-dish. They also serve plenty of hearty fare, including fried chicken and other American specialties.
Bosnian Specialties 3028 Caniff St., Hamtramck; 313-875-2722; $: Bosnian Specialties is unpretentious in the extreme, with seven round, well-spaced tables up a flight of steps, trying for a homey effect. Little rustic crosshatched roof effects adorn the windows and the corner table sits in a wooden bower twined with plastic grapevines. The food brings to mind Greek and Romanian dishes; gyros are on the menu, as are Greek salad and various shishes. The national food of Bosnia, though, and the most popular dish at Bosnian Specialties, is chevapi, beef ground with "secret ingredients" and made into sausage. It can be served on its own or between slices of lepina — a round, filling bread, sort of like a huge grilled English muffin, but spongier. Another interesting dish is the burek — layers of phyllo pastry filled with ground beef or cottage cheese. The cheese version is comfort food, mild and bland and very filling. Portion sizes are impressive for the affordable prices.
Café 1923 2287 Holbrook St., 313-319-8766; $: Built in 1923, this former corner store has been lovingly restored with the period details that now make it such an appealing coffeehouse. However, the way Café 1923 differs from most coffeehouses is the price. Coffees and other specialties are affordably priced; nothing on the menu is more than $5. Art exhibits are showcased along the walls featuring local artists. In fair weather, their back yard is a sun-splashed delight. In foul weather, enjoy the street views in the front or retreat to the book-filled rear. It's a great place to get some work done peacefully, since Café 1923 offers free wireless Internet.
Campau Tower 10337 Joseph Campau St., Hamtramck; 313-873-7330; $: They've been a fixture in Hamtramck for as long as anybody can remember, as a ghost of the old White Tower chain, a tiny building that looks like it had to wedge in between those on either side of it. And, day after day, this slider joint serves the few characters who always seem to be waiting for a burger. But at night, when the bar crowd rolls in, the handful of stools in front of the counter fills up with night-clubbers and bar-hoppers, still eager to fill up on Campau's sturdy fare. In fact, owner Sandy Bakic, of New Martha Washington Bakery next door, says she's ordering extra sliders for Blowout; at $1 per burger, they're sure to draw a throng. But don't worry if the seats are all taken; Campau Tower offers carry-out service.
Grandy's Coney Island 1200 Holbrook St., Detroit; 313-875-3000; $: OK, so you've just seen five or six bands, you have a car full of juiced-up pals, and you just want to grab a load of hooch-sopping comfort food before descending into the freeway for points distant. You could do much worse than Grandy's. The little drive-through just outside Hamtramck (and right near the entrance ramp to I-75) is one of those places with more than 100 things on the menu, ranging from coney dogs to subs to BLTs and on through to more elaborate choices, including cod, smelt, gyros, catfish and a 21-piece shrimp basket. OK, so you won't need that, but their burgers are very good, the service is friendly, and, best of all, they've never gotten our order wrong! Closed Sundays and holidays.
Hamtramck Coney Island 9741 Joseph Campau St.; 313-873-4569; $: Detroit's culinary gift to the world may be humble, but it's a point of local honor. Located in the midst of the busy street of Joseph Campau, this coney island is the perfect stop in between the bar hopping. Taste the pride for $1.90 with a classic coney dog: An all-beef frank placed lovingly in a bun, drizzled with beef chili, diced raw onions and mustard. It's the perfect spot for a quick meal of your favorite burger, gyro or sandwich. Also, stop in for breakfast the next morning after an adventurous night on the town.
Kelly's Bar 2403 Holbrook, Hamtramck; 313-873-9428; $: Don't let the appearance of a dive bar fool you. Inside, Kelly's Bar features a huge menu to pair up with your favorite drinks. Kelly's is known widely throughout Hamtramck for having one of the best Reuben sandwiches and great waffle fries to match. Not only do they offer the typical "bar food" (burgers, fries and different appetizers) but also chicken, seafood and rib dinners. Kelly's Bar is also participating in the "Hamtramck Blowout" so don't miss out on the live music over the weekend while you're enjoying your meal.
Maine Street 11650 Joseph Campau St., Hamtramck; 313-368-0500; $: Serving stick-to-the-ribs diner fare (daytime only; closed Sundays), Maine Street may not be a late-night hangout, but it's a likely spot to see the people you partied with the night before, probably at the full-service bar. It may appear as a typical family-style Greek restaurant, serving gyros and saganaki ("Opa!"), but Maine Street's menu also includes dishes that encompass Hamtramck's diversity by offering homemade chevapis and hummus. Breakfast is served anytime, except it costs $1 more after 11 a.m.; however, even then it's worth it for the enormous omelets they serve.
Maria's Comida 11411 Joseph Campau St., Hamtramck; 313-733-8406; $: Maria's offers complimentary homemade salsa and chips as appetizers while you decide what to order. Better than most choices are the jalapenos stuffed with lime cream cheese, the verde sauce for enchiladas, and the house-made desserts. Like the kind of tamales where the masa is dry? Maria's serves the best we've found of that category — they come from Mexicantown Bakery. For made-to-order fried ice cream, an American-born dish, the chef coats ice cream with Frosted Flakes, to good effect. For the last few months, Maria's has also ventured into fusion fare, offering a few Asian-inspired dishes as well.
Polish Village Cafe 2990 Yemans St., Hamtramck; 313-874-5726; $$: Digging into a big plate at Hamtramck's Polish Village Café might have you suppose you're eating food prepared by somebody's Polish mother. That's because, essentially, you are. During peak dining hours there's a steady flow of waiting customers first lining up at the bar and sometimes winding up the stairs and out the door. Most entrées run around $8 — a trifle when you consider the asking price for a dreary meal at the corner suburban strip mall chain. In a space with old-style character, with a full bar, this Hamtramck staple serves a few pages of meat-and-potatoes Polish dishes and their accompanying sides. Impressive soups, Polish standards, "city chicken," Hungarian pancakes, mushroom crepes, boiled ribs, fresh sausage in beer sauce, pan-fried chicken livers — plus a whole other menu page of such daily specials as stuffed green peppers and sauerkraut in crusty dough. Don't forget to order Poland's famous beer Zywiec along with your meal to truly enhance your Polish experience. Cash only.
Polonia Restaurant 2934 Yemans St., Hamtramck; 313-873-8432; $: Back in the 1930s, the second floor used to be a place where labor organizers would meet. Today, Polonia still serves authentic Polish fare, taking special pride in its freshness. Their kielbasa, for instance, is made at the restaurant from their own special recipe. The almost-100-year-old restaurant was bought and remodeled in 1986 by Polish immigrant Janusz Zurowki. Feel at home amid the cozy booths, the colorful Polish knickknacks on display and the aromas of Polish home cooking. That's why if you're looking for good, hearty and affordable food in a charming atmosphere, you can't do much better than Polonia. The menu is full of traditional Polish food, heavy on the meat and potatoes, but without gargantuan serving sizes. The decor is a hodgepodge of wooden curios and colorful plates beneath the warm pink glow of coated fluorescent lamps. There is no real sit-down bar, but drinks in all forms are readily served. Start off your meal with a shot of wisniowka, a very sweet, cherry-flavored vodka. If diet be damned, dive right in to an appetizer of smalec ze skwareczkami, a bread spread consisting of pork lard, bacon crumbs, onion and spices. There is a nice lineup of soups, and great pierogi stuffed with potato, cheese, kraut or meat. Open seven days a week and there are several daily specials.
Royal Kabob 3236 Caniff St., Hamtramck; 313-872-9454; $: Royal Kabob provides everything from an ambitious platter to a humble, wax-paper-wrapped falafel sandwich. And those sandwiches are deals: A falafel sandwich is $3.45, as are the four other vegetarian sandwiches. For carnivores, meat-kebab sandwiches are around $3.45. As for their entrées, they're big enough to guarantee you'll leave with a box. Jeez, their $24.99 takeout combo for two is enough food for a small army. Though it does a brisk take-out business, the interior is bright and commodious, with enough room for large parties. What's more, it has a gelato bar for your sweet finish.
Three-Star Bar B Que and Lounge 11941 Joseph Campau St., Hamtramck; 313-365-9494; $: Good old-fashioned comfort food in an environment your parents might approve of. But that's hardly a strike against it. Three-Star offers dine-in, carry out, delivery and a full-service bar that adds a "lounge" feel into the evening. Hearty breakfasts start at 7 a.m. and drinking hours extend until 11 p.m. Sunday-Thursday and until midnight on Friday and Saturday. Hint: The ribs provide an excellent base for an ambitious pub crawl.
Under the Eagle 9000 Joseph Campau St., Hamtramck; 313-875-5905; $: Located at the south end of Hamtramck, Under the Eagle completes the Polish cuisine triangle. Solid Polish fare is served by a staff in native Polish dress, in a room filled with colorful folk art. Amenities are extremely modest, from plastic tablecloths to paper napkins, but the value is outstanding for plates brimming with kielbasa and sauerkraut, mashed potatoes, stuffed cabbage, pierogi and blintzes. It's impossible to leave hungry after the giant portions, including a huge bowl of the famous dill pickle soup.
Yemen Café 8735 Joseph Campau; 313-871-4349; $$: Despite the small diner atmosphere, you'll notice this is no hot dog stand right away: Flashes of fire from the kitchen signal high-heat fresh cooking, and Al Jazeera Arabic chatters on the flat-screen TV adds to the ethnic flair. The menu's long list of unusual Yemeni fare can challenge the Western diner, but we often order the gallaba, meat or vegetable, a stir-fry of ingredients that comes with bread or laid over a bed of rice. Ask for it spicy and it comes with a sort of relish with peppers in it. More unusual choices, such as lamb soup, may be worth a try as well. A few blocks south of the Painted Lady and New Dodge Lounge.
ZamZam 11917 Conant St.; 313-893-9902; $$: Situated north of Caniff on Conant in a building previously occupied by another Indian restaurant, ZamZam offers a full menu of Bangladeshi, Pakistani and Indian cuisine from lunch through the late evening. Value is a term that gets tossed about often, but ZamZam could easily find itself pictured next to the word in an illustrated dictionary. You will likely leave with bags full of leftovers from meals that cost under $10 and bellies bursting with discomfort joyfully obtained. Beginning with an appetizer (or two) is an easy choice given that the change found between two sofa cushions may well cover the expense. The bulk of the menu, though, consists of a lengthy list of entrées covering the breadth of the region. Interestingly, ZamZam serves halal food, but they also serve a much higher percentage of meat dishes than do most area Indian restaurants. Herbivorous folks shouldn't be too disappointed though: The vegetable entrées are as delicious and inexpensive as everything else. For $6, one may sample common favorites like mutter paneer, fried peas with homemade cheese cubes, and saag paneer, which substitutes spinach for peas, each with pleasant spicing and firm cheese that hasn't succumbed to a tendency to fall apart. Each meal comes with either rice or naan, though given the low cost and large portions, it's easy enough to enjoy both in a sitting, especially if those at the table share. Open 11:30 a.m.-11 p.m. daily.
Special thanks to editorial interns Patrick Higgins and Alia Raheem for their assistance compiling these listings.
See any inaccuracies or omissions? Let us know! Send an e-mail to [email protected] or call 313-202-8043.