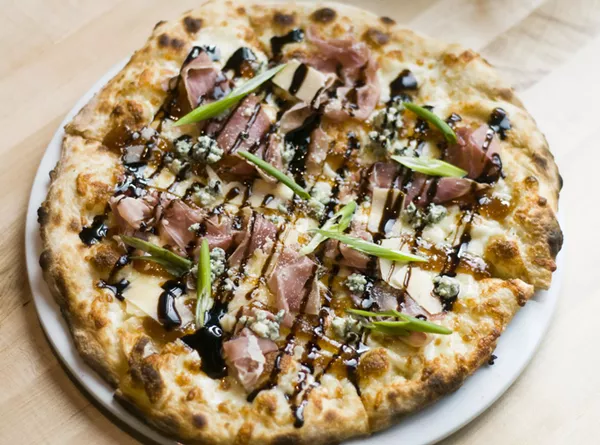 Thin crust pizzamaker Mootz Pizzeria and Bar is hosting its grand opening today near downtown Detroit's Belt Alley.
The restaurant is divided up into two components — a full service dining room with a bar, and a small counter with slices for carryout called the Side Hustle.
In the latter, the slices are pretty close to what one might find in New York City — big, floppy thin crust triangles, but made with higher end ingredients. The pizzas served in the restaurant are 12 inches.
Perhaps the notable characteristic of Mootz's pies is the crust's texture. Mootz first ferments the dough for 18 hours at room temperature, then cold ferments it for another 48 hours. It's cooked in a domed oven in which temps exceed 700 degrees, creating crust that's airy, slightly chewy, and crisp on the outside.
The menu includes pies like Uptown + The Bronx (cup and char pepperoni, mozzarella, Sicilian oregano and NYC pizza sauce), Beast of Burden (pinched sausage, ricotta, mozzarella and NYC pizza sauce), and the Juliet (prosciutto, fig jam, mozzarella, gorgonzola and balsamic glaze).
In addition to pizza, Mootz offers pastas like baked ravioli, "Nonna's meatballs," and a burrata salad.
Slices are $4.50 and up, and the restaurant is cashless, a move that has already drawn some criticism from those who say that it excludes people who don't have credit cards.
Mootz is located at 1230 Library St. and will be open Sunday through Thursday 11 a.m. to midnight, and Friday and Saturday from 11 a.m. to 1:30 a.m.
So many restaurants, so little time. Find out the latest Detroit dining news with our weekly food newsletter delivered every Friday morning.