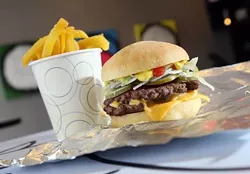 Moo Cluck Moo
8606 N. Telegraph Rd.
Dearborn Heights
313-562-9999
Sandwiches $3-$6
Open 11 a.m.-8 p.m. daily.
The idea was to keep it simple: just burger, chicken, milkshake — moo, cluck, moo. But hardly had partners Brian Parker and Harry Moorhouse gotten their new "natural" and high-quality fast food joint off the ground than they had to start tinkering.
So now there's also a portobello sandwich and a garden salad and a black cherry vanilla ice cream float. Plus a "skinny moo" — the patty wrapped in a lettuce leaf instead of a bun.
Neither the high quality nor the tinkering are surprising when you consider that the food consultant for Moo Cluck Moo is Jimmy Schmidt — yes, the same Jimmy Schmidt who's run Rivertown's high-end Rattlesnake Club for 25 years now. And on-site manager Alan Fisher is a former sous chef from Opus One.
What's going on? The plan I gleaned from an interview with Moorhouse is this: to create a much higher level of quality of fast food than anyone in this neighborhood's been able to find nearby, while still giving the people what they want (which is burgers) at a low price.
It's hard to say what's most astonishing about a business model that uses Meyer lemons, top-of-the-line Maille Dijon and Grana Padano cheese from Italy, and still keeps prices at $2 for fries and $3 for burgers. Moorhouse explains that the Grana Padano comes from the region next to where Parmigiano Reggiano is made but is a harder cheese — perfect for paring to add to the garden salad. These are the sorts of details that arise from working with a master chef.
"I'm surprised everybody doesn't use better ingredients," Moorhouse says. It's his first venture into the restaurant business. "We can still run at industry standards using the best stuff." And the best stuff produces a really fine meal.
The regular Moo is small, close to a quarter-pound at $3, double the size for $5. No annoying packets for your ketchup, mustard or mayo, condiments are added in the kitchen. The bun is baked in-house from a Schmidt recipe using fresh eggs and butter and is touted as high-protein. But I tried the Skinny Moo as an experiment and was shocked at how little I missed the bread. The beef is moist and has never been frozen, the bacon (make yours a bacon-cheeseburger for a buck) is Berkshire from Eden Farms.
The chicken sandwich is a bit more adventurous than the burger. The cluck is dipped in buttermilk before frying, and the finished product has a slaw topping that features jalapeños, red onion, Dijon and red-wine vinaigrette, again a recipe with input from Schmidt. Forget any associations you may have of slaw with Miracle Whip; this one is light and actually exciting.
Listen to how the fries are made, the same method Schmidt uses at his other restaurant in Palm Springs: frozen potatoes, cut thick, blanched first, then cooled. When an order comes in, they're flash-fried in red palm fruit oil, purported to be higher in beta carotene than carrots, and sprinkled with sea salt.
For garlic fries, there's another step: artisanal garlic is first sliced thin and poached in oil for three hours, and that ambrosial concoction is sprinkled over the hot fries.
The garden salad has a lot going on, all of it good: a bed of baby kale and spring mix is topped with thin house-made pickle slices, roasted and seasoned chicken breast, shaved Grana Padano and house-made croutons brushed with garlic oil. The dressing is a house-made basil pesto combined with Meyer lemon juice.
Ice cream for the $3 16-ounce shakes comes from nearby Calder Dairy. I found the chocolate version pretty standard, but the vanilla reawakened me to the glories of good vanilla — sumptuous, creamy, deep, velvety and very thick.
Black cherry pop can be medicinal, but in the Moo's Cherry Dream Fat Cow Milkshake any hint of that is ameliorated by the richness of the vanilla.
All pops come from Northwoods near Grand Traverse, vaunted for using sugar instead of corn syrup. Moo Cluck Moo aggressively advertises the fact that its beef, bacon, cheese and chicken are natural — no antibiotics or hormones — its buns high-protein, its fruit oil "regarded as a sacred healing food by the ancient Egyptians," the condiments made without preservatives. The word "health" even slips onto the menu, along with "consistency" and "quality."
I had to giggle. This is fried meat and potatoes and high-fat ice cream, for chrissakes! Folks visiting Moo Cluck Moo for their health are practicing self-delusion of the highest order.
"'Natural' is one of those thrown-about words," Moorhouse admitted. "Whether we get on the bandwagon of 'don't eat red meat' and 'don't eat fried food,' that's what people want to eat. If there's a healthier way to eat it, if we can fry it in something better for you, that's what we want to do."
He's still shaking his head over the way other restaurateurs shun better-tasting ingredients, "trying to pinch nickels and dimes." The starting wage at Moo Cluck Moo is $12 an hour, 62 percent higher than the norm.
He had me at the taste of the food, but treating the workers with respect was a deal-clincher.
Jane Slaughter dines for Metro Times. Send comments to [email protected].