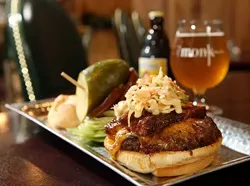 Monk Beer Bar
419 S. Main St.
Royal Oak
248-544-6250
Handicap accessible
Mussels, burgers & sandwiches: $9-$15
Appetizers & sides: $5-$13
Open 4-11 p.m. Monday-Wednesday, 4 p.m.-2 a.m. Thursday-Saturday, 4-10 p.m. Sunday.
When one thinks of monks, simplicity or austerity are adjectives that might reasonably come to mind. Although Monk Beer Bar's name pays homage to the Belgian monks who have for centuries brewed many of Belgium's most renowned beers, its extensive beer list and selection of familiar food with luxurious twists is anything but ascetic.
Located in the revamped space adjacent to Bastone that used to house Café Habana, Monk is an intimate, cozy environment. In nice weather, you might opt to sit on the small sidewalk patio, as we did. The servers we had on all our visits were attentive, helpful and friendly without pandering, and food was served at an appropriate pace, allowing us ample time to linger over appetizers before main courses arrived.
On one visit, our party shared the cheese board. The charcuterie and cheeses were of fine quality, and the quantity was enough for four to share. On another occasion, we tried a trio of mussels; diners can choose from five preparations. The group favorite was the Pernod and pancetta combination, but none disappointed. Although the old wisdom says not to eat mussels in months without R in them (i.e., May through August), the advent of farmed mussels ensures a more consistent quality year-round, so go ahead and enjoy them throughout the summer; they're one of the lighter items on the menu.
Besides mussels, the other two categories of entrée are burgers and waffle (or gaufre, the Belgian term) sandwiches. Don't be put off by the sound of a sandwich on a waffle — these are savory herbed waffles, not the sweet breakfast variety. The term "sandwich" is perhaps a bit of a stretch, given that all but the most intrepid eaters would require a knife and fork, but with flavors like these, it matters little. We were particularly enamored with the pulled chicken version, combining moist shreds of chicken with toasted walnuts, grapes and a garlicky sauce.
Burgers were consistently cooked to the correct temperature, and served with buns that could stand up to their heft and juiciness without falling apart. Rather than the usual sad, pale tomato slice, heirloom tomatoes on the burgers were a nice touch, bringing everything up a notch. Although we bypassed the ultra-decadent foie gras, goat cheese and pancetta burger, my co-diners were quite happy with the pork belly burger and the bacon and Edam cheese versions. The menu is short on vegetarian options, but there is a black bean burger on the menu. My friend had the highest praises for its flavor; his only complaint was that it didn't hold together, squishing out of the bun at each bite.
Vegetarians should also take note of the Monastery salad and the beer cheese soup, both of which stood out. The salad has the somewhat expected dried-cherries-and-walnuts combo, but also some delicious pickled onions and a very good hazelnut dressing with an earthy, almost chocolaty undertone. The beer cheese soup has a haunting combination of spices that we couldn't quite pinpoint (nutmeg, and something with a mild heat); it had us reaching for bite after bite in an effort to decipher its secrets.
No review of Monk would be complete without mentioning another luxury menu item, the duck fat fries. We didn't order the "regular" fries to compare, but the duck fat fries were good, if a tad on the overcooked, crunchy side. I suspect the duck fat may be combined with another cooking oil, as the fries didn't taste particularly ducky in relation to other versions I've tried. Europeans often eat their fries with mayonnaise rather than ketchup; this tradition is echoed in the selection of sauces that accompany the fries, several of which are mayo-based. Our two favorites were the Mammoet, a creamy, tangy garlic sauce, and the curry ketchup. Regular fries come with a choice of sauces as well.
As its name indicates, Monk Beer Bar's centerpiece is its extensive Belgian beer list. Beers are conveniently broken down by style, with ABV and bottle size listed as well. You'll spot familiar brands, including Leffe and Chimay, alongside lesser-known breweries such as St. Feuillien or Brouwerj Corsendonk. All of the beers brewed by Bastone are also available on tap, and although not on the menu, anyone wanting a cocktail or glass of wine should be able to get one via their server from the Bastone bar.
Some patrons are surely mourning the loss of Café Habana, but my gut feeling is that Monk is a better fit for the location, its concept dovetailing nicely with the well-established Bastone. Although the rich, heavy-leaning menu could use a few lighter, more summery options, its familiar-but-upscale fare, at moderate prices to boot, will appeal to a broad range of diners. Between that and the great beer, Monk is well-positioned to join sister restaurant Bastone as a Royal Oak mainstay.
Noelle Lothamer dines for Metro Times. Send comments to [email protected]