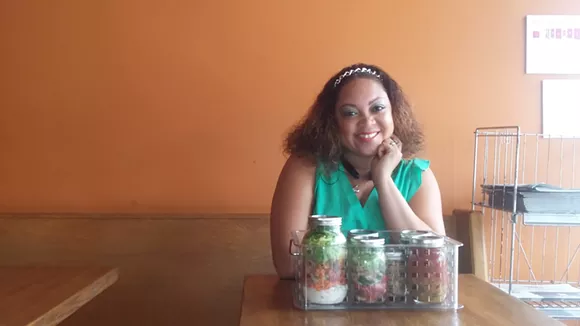 Eating healthy these days can be tricky, what with the abundance of unhealthy food offerings in many Detroit neighborhoods. That's why Tamika Lang of Southfield decided to launch her Mimi's Munchies fresh meal delivery program. Taking cues from the old-fashioned milk man of years yonder, Lang delivers fresh batches of healthful, tasty salads, carb-free noodles and what she calls "faux fried rice" (made with cauliflower instead of actual rice) to customers throughout Metro Detroit in glass mason jars, which can be reused when she comes and picks them up each week.
Think of it like the local version of Plated or Blue Apron - the internet-based food delivery services that ship raw ingredients and recipes to subscribers to make gourmet meals at home - except with Mimi's, she puts in the legwork from her home kitchen by preparing and packaging the meals herself. Just a few months into her venture, Lang has about a dozen constant clients, but envisions her service will be appealing to Detroiters who don't feel they have the time or know-how to prepare food at home.
"The jars are really the key to the whole process," Lang says. "When you buy fresh fruits and veggies, you have great ambitions to eat healthy, but it doesn't work because they wilt before you ever get to it."
The jarred meals last longer than your typical grocery-bought produce, nine to 12 days, if kept refrigerated. So far, Lang, 37, has 10 salads on the menu, including Greek, Caesar and Buffalo chicken, as well as a noodle bowl, the faux rice, carb-free pizzas and other offerings.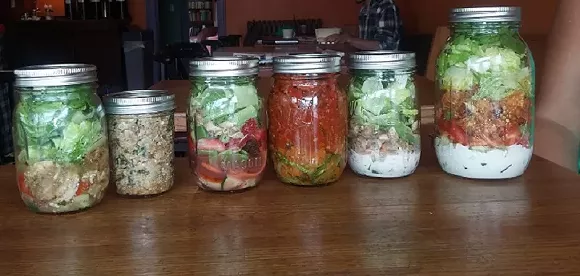 Lang says the idea sprouted after she began researching easy diet hacks on Pinterest. She wanted to get a handle on her health, given her family's high risk for high blood pressure and diabetes. Her idea could resonate with Detroiters, who are not the healthiest bunch, statistically speaking. A whooping 33 percent of Metro Detroiters are considered obese, according to CDC findings from a few years back. And the numbers of people of color here are even more alarming, with more than 40 percent of African Americans who reported being obese or extremely overweight. Obesity lends itself to a host of other problems prevalent within the black community, including high blood pressure, diabetes and hypertension. And though more dining options are taking root in various parts of the city, some of the city's most vulnerable - lower-income young families and the elderly - simply may not have access to fresh fruits and veggies. Services like these could serve to fill that gap, particularly if they're sold out of small mom and pop shops and cafes.
Lang, who got the name for her business from the nickname her grandchildren and godchildren gave her, says she's working on a business plan and is hoping to connect with some of the local entrepreneurial incubators to help her expand. She likes the idea of vending her goods out of local small businesses and would eventually love to have a food truck of her own.
For now, you can check out her menu and keep track of her progress on her Facebook page.