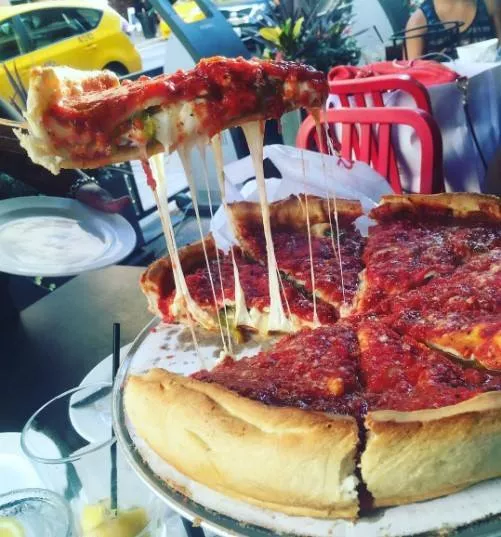 The debate over which Midwest city does pizza best could go on forever.
While Chicago deep dish has been part of the pizza lexicon for ages, it's Detroit's cult classic caramelized cheesy square that is now beginning to capture a national fan base.
But aside from the sporadic metro Detroit pizzerias that offer some variation of Chicago-style, the two worlds have held onto their respective territories, separated by a long stretch of I-94, different time zones, and a tomato-ey pool as deep as Lake Michigan.
That is, until now. MLive
reports
that one of Chicago's most recognizable pizza chains has made its way across state lines, with the Aug. 29 opening of a Giordano's franchise in Holland (3333 W. Shore Drive).
The move across Michigan's state line isn't all that surprising. After all, plenty of Chicagoans flock to the western side of the state once they retire or grow wary of life in the Windy City. Venture into cities like Grand Rapids, Kalamazoo, or Holland and you're bound to come across your share of Chicago-style hot dogs or Italian Beefs.
News of this development does raise the question, however, over how Detroiters will take this Chicago invasion should the chain make its way to the Motor City. The MLive report says an announcement about a 2017 Detroit location is expected in October.
As someone who's lived in both cities and has dug into both styles of pizza, we know just how deep the loyalties for each city go. We prefer the harmonious blend of crunch, gooey cheese, and toppings that make up the Detroit square to the pool of tomato sauce found in the Chicago deep dish.
It also deserves mention that this newest restaurant is just one of many chains that have announcements about infiltrating Detroit. We've seen an influx of franchises with planned expansions into Motown as of late, including Calexico, Shake Shack, Gus's World Famous Fried Chicken, and Wahlburgers. While word of some of these spots' arrivals have been embraced, others have yet to be fully welcomed with open arms by Detroiters.
We're sure there are be plenty of Chicago expats eager about the arrival of Giordano's in Michigan (and eventually Detroit).
In the meantime, our belly is filled with Buddy's.