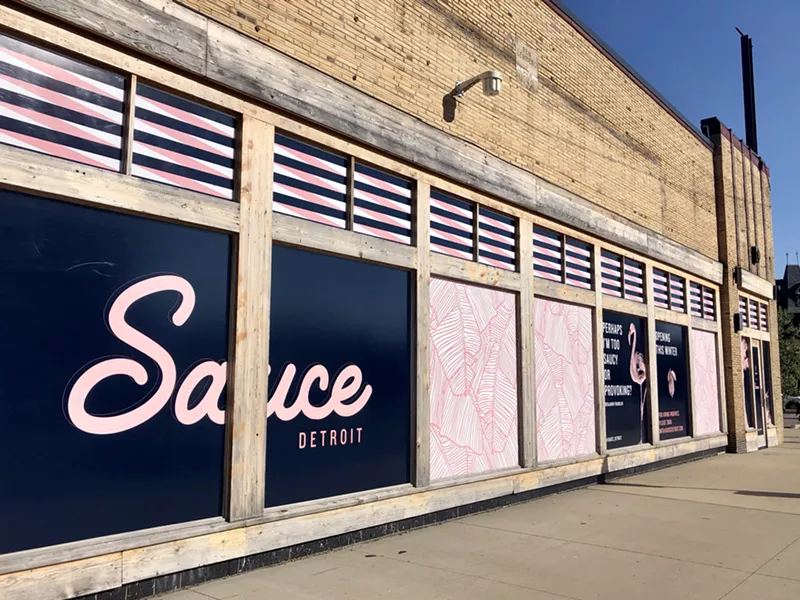 Not long ago, the building at 4120 Second St. in Detroit's Cass Corridor was a no-frills neighborhood grocery store. In 2015, it became the
high-end leather retailer
Will Leather Goods.
Now, it looks like its next iteration will fall somewhere between those two points on the spectrum.
Sauce, the forthcoming Italian restaurant slated for a spring opening, is shaping up to have a posh, Palm Springs-y feel. But chef Myles McVay says he expects the menu will be "approachable," telling
The Detroit News
that he thinks the price point "will definitely bmysele for the 99%, in my estimation."
Renderings published by
Hour Detroit
magazine show a slick mid-century modern design with high ceilings and terrazzo stonework. The menu will feature Neapolitan pizzas and other dishes inspired by Italy and Southern California, and a coffee bar will serve lattes and gelato.
McVay previously worked at Ferndale's Otus Supply. Sauce is part of Heirloom Hospitality, the hospitality group helmed by Jeremy Sasson that also includes Prime + Proper steakhouse in Detroit and Townhouse in Detroit and Birmingham.
So many restaurants, so little time. Sign up for our weekly food newsletter delivered every Friday morning for the latest Detroit dining news.