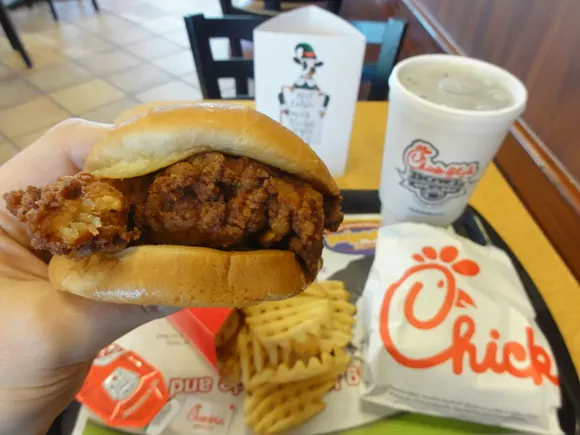 If you've ever put together a list of all the fast-food spots that you'd love to come to Michigan, Chick-fil-A has most likely made the rankings (unless you're put off by the Atlanta-based chain's former stance
against
gay marriage).
Die-hard fans of the fried chicken sammies, nuggets, waffle fries, and breakfast biscuits already know that there are two semi-secret outposts in the Mitten State already - one at Oakland University and the other at McNamara terminal at DTW.
But unless you manage to catch the limited hours at the university location (not to mention, find a reason to be on campus) or have booked your travel specifically around flying out of the right terminal, chances are slim that you've been able to enjoy this Southern classic.
That will change though come Oct. 13 when Michigan welcomes not one but two new locations. Metro Detroit will get one inside the mall at Somerset Collection in Troy, while the state's first stand-alone store will be located at 5617 W. Saginaw Highway in Lansing.
Both locations are owned by franchisees Blake Dennard and Kate McNerney. The first to open that October day will be the Lansing branch, at 6 a.m., with Somerset following four hours later.
The chain will host an overnight "First 100" party ahead of each store's opening. As is tradition, the first 100 customers to make into either location will win free food for a year (52 meals consisting of a Chick-fil-A chicken sandwich, waffle fries and a medium drink). Guests will have to live within specific zip codes surrounding the restaurants to participate (sorry, you can't road trip from too far away). Check
here
for more details.
These openings mark the first in Chick-fil-A's expansion into Michigan. The company plans to open 15-20 restaurants to the state in the next five years. The restaurants are expected to hire 150 full- and part-time employees combined. Click
here
to apply for positions in Troy and
here
for Lansing.