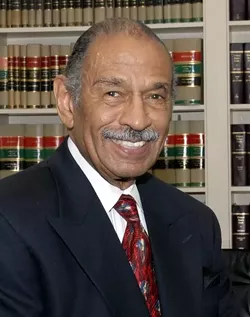 Michigan Rep. John Conyers has joined the growing list of powerful men accused of sexual harassment in recent weeks.
According to documents obtained and verified by
BuzzFeed News,
Conyers — a Democrat and longest-serving member of the House of Representatives — used his office budget to settle a wrongful dismissal complaint in 2015.
The complaint came from a former employee who believed she was fired because she would not give in to Conyers' repeated advances, which included asking for sexual favors and asking her to join him in a hotel room. According to the documents, the woman signed a confidentiality agreement in exchange for a settlement of more than $27,111.75. On paper, Conyers' office then "rehired" the woman as a "temporary employee" who did not do any actual work.
"I was basically blackballed," the woman, who requested anonymity for fear of retribution, told
BuzzFeed News. "
There was nowhere I could go."
In signed affidavits obtained by
BuzzFeed
, other former staffers alleged that Conyers used congressional resources to fly in women they believed he was having affairs with, while another said she was tasked with driving women to and from Conyers' apartment and hotel rooms.
According to
BuzzFeed
, the documents were provided by alt-right figure Mike Cernovich, who did not want to publish them himself because he feared the story would be discredited.
When asked by a reporter from
The Associated Press
Tuesday morning, Conyers denied knowledge of the sexual harassment claims and settlements, saying he learned of the story just hours earlier and "has been looking at these things with amazement."
Congress's Office of Compliance paid out $17 million for 264 settlements with federal employees over the past two decades, according to the
Washington Post.