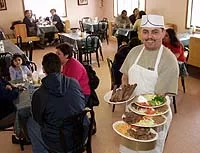 If you live on the southwest side, it feels like a new Mexican restaurant is opening every week, presumably to feed the new immigrants who arrive daily.
Felix Chavez has managed to capture a piece of prime real estate, right on the Bagley strip where most of the restaurants cater to non-Spanish-speaking non-residents of the hood. He's upstairs from La Gloria Bakery, where you can get fresh-squeezed juices (apple, carrot, strawberry, banana, orange) along with your Mexican pastries.
I was picturing a hole-in-the-wall, a little scruffy place, and was charmed to find instead a light and airy room with wooden booths, windows all around and views of St. Anne's, the train station, the Ren Cen and I-75. It's amazing what a difference a view makes, even if it's not the loveliest.
On the wall are sepia photos of Pancho Villa and Emiliano Zapata and their troops, and Chavez talked to us about Villa, his defeat of General Pershing's invasion early in the last century, and the tendency of history to change depending on who's telling it.
Our other topic for discussion was churros. These are the Mexican version of donuts, and Chavez creates them in the back room at La Gloria. He lays out a table-length strip of dough, made with milk and eggs, and then cuts it into foot-long strips. These are fried and sprinkled with coarse sugar, and served warm; they are a treat. Chavez makes 700 to 900 every Saturday for the local trade.
"In Mexico people eat them with hot chocolate," he told us. "Our chocolate is different."
"I know," I interrupted, "I brought some back with me from Oaxaca. But it's all gone now," I finished sadly.
"Oh, they sell it downstairs," Chavez said, and I did not pass go but descended immediately to replenish my stores with a block of Popular brand, made with cinnamon, from Monterrey. You melt a square in hot milk, beat it up and, if you're lucky, dip a churro in it.
Tu Casa (which is the friendly form of "your house," as is "mi casa es tu casa") has a short menu mercifully lacking in chimichangas and chalupas. My favorite is breakfast ($4). Try the tender chilaquiles, replete with onions, green peppers and tomatoes and just the right proportion of egg to tortilla chips. If you like chorizo, it's good mixed in eggs too. A serving of churros with coffee or hot chocolate is $1.25.
Guacamole is $2, which would barely seem to cover the cost of the ingredients, much less all that smashing and chopping labor. Chavez's version is tasty and chunky, with a little onion and cilantro. Botanas and super nachos are also available.
Tacos (soft) are served with carne asada (chopped steak), barbacoa (steamed beef), carnitas (little pork cubes), pollo (chicken), tripitas (beef tripe) or lengua (tongue), or al pastor (pork and onions). You try the tripe and tongue and tell me. Each is sprinkled with onions and fresh cilantro.
The seven dinners come with rice and beans, of course; they include basically the same meats as the tacos, plus pork tamales or steak. We found the pork tamales to be moist (often these are dry), and to taste satisfactorily of corn, but not much of pork.
The huge chicken burrito was a disappointment. One of our party, evidently well trained by her mother the restaurant reviewer, noted that you couldn't distinguish any separate tastes, although it included avocado, beans, lettuce and tomato.
Better was the barbacoa torta (sandwich) — rich and warm on a bun, again with avocado, and sour cream if you want it.
No alcohol or credit cards, but it's a room with a view.
Jane Slaughter dines for Metro Times. Send comments to [email protected].