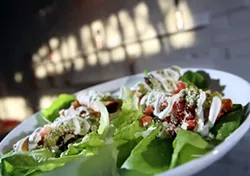 Mex
6675 Telegraph Rd., Bloomfield Hills
248-723-0800
mexbloomfield.com
Handicap accessible
Large plates: $13-$19
Two tacos: $11-$12
Open 11 a.m.-3 p.m. and 4-10 p.m. Monday-Thursday, 11 a.m.-3 p.m. and 4-11 p.m. Friday, 4-11 p.m. Saturday, 4-10 p.m. Sunday.
Mex is insanely inundated and why wouldn't it be? Any young crowd would flock to a place that serves 92 tequilas and 12 mezcals — with a demented decor and a well-executed menu.
In a vain attempt to beat the crowds (no reservations are taken), we arrived at 5:45 one night for a pre-movie meal — and still had a half-hour wait. (A pleasant wait it was, too, at the bar.)
Though owner Zak Sklar (of Social Kitchen & Bar in Birmingham) has clearly taken pains with the menu — a friend ran into him last December carrying both Rick Bayless' Authentic Mexican and one of Diana Kennedy's books on Mexican cuisine — the big draw appears to be the booze.
Out of 400 covers a night, said the bartender, half will include one or two margaritas. The Classico is made not only with the usual lemon, lime and Cointreau but also with O.J., and tastes like it. I had a coconut caipirinha that the bartender assured me was not a lady drink — it has a beautiful, creamy foam on top that lasts all the way down: looks Arctic but tastes tropical.
The Florita, with Hendrick's and cukes, is good if you like the flavor of rosewater, and for the designated driver, horchata is refreshing, with some almond added to the rice milk for good measure.
If you prefer your drinks straight-up, tequilas range from $8 to $60 a shot. The wine list is eclectic, with even a couple of Mexican offerings; and beers include Michigan brews and standard Mexican ones (Corona, Negra Modelo) — and one new to me: Cucapa Green Card 22-ounce.
The look of the place, by the ubiquitous Ron Rea, purposely has nothing to do with Mexico. The entrance is a three-story door with the knob way above your head. The bar has gilt-edged mirrors on the ceiling. Upstairs, portraits of a clothed pig, cow and chickens dominate; long white ropes give the illusion of suspending a table from the ceiling. It's more psychedelic than alcoholic; one reviewer said "Alice in Wonderland."
Zak, you've already heard this from a boatload of people: Folks don't like to be charged for their chips and salsa. That said, they are very good $4 chips and salsa — the warm, house-made chips "just greasy enough," per my companion. Salsa verde is intense, with just enough bite, and chunky roja is full-bodied in both texture and taste. Neither is high on the capsaicin scale, and that's true of everything at Mex. Guacamole is also excellent, chunky with tomatoes and appropriate amounts of lime and cilantro.
The menu is divided into small, medium and large plates (sides, appetizers and entrées), plus tacos. If you compare Sklar's taco prices with those of Mexican-oriented places in Mexicantown — $5.50-$6 apiece vs. $1.50 — you will not be thrilled, but again, they're good.
Most are done authentically, with corn tortillas and no cheese except for maybe a sprinkling of Mexican white. You get two at a time and they come to the table in clever W-shaped metal holders. The price per taco comes down if you order three.
We loved the chorizo taco — the meat crisp and smoky — and the shrimp, with a counterintuitive tomato sauce. The rib-eye is made with plenty of cilantro and salsa verde. Only the fish taco, usually my favorite, disappointed, with more barbecue than mahi taste.
A large-plate grilled mahi, though, was gratifying, with a bit of smoky flavor. Best of all, the dish comes with a corn tamale, which you can also order separately. Many Mexican restaurants don't make tamales because they're a lot of work and, at some of those that do, the masa exterior is often dry. At Mex, it's corn — masa — stuffed with corn, the texture fluffy, the overall effect sweet. Highly recommended.
For more corn, I got the sublime $4.50 elote: a charred ear with a subtle sauce of crema and cotija cheese. The other sides are missable: a gummy Spanish rice and black beans that are fine but not worth the extra tab.
The large plates are where Sklar wanders far from Kennedy-Bayless territory (that is, authentic regional cooking), offering an overstuffed burrito, a "nacho salad" and a "fajita bowl." I must remain agnostic on their execution.
For dessert, it's got to be the tres leches cake, which is soaked with its three milks to just the right consistency, a hint of caramel peeking through. Avocado icebox pie with lime custard and a pecan crust also looks good.
Mex is a winning combination — a cuisine almost everyone likes, plus a great bar scene.