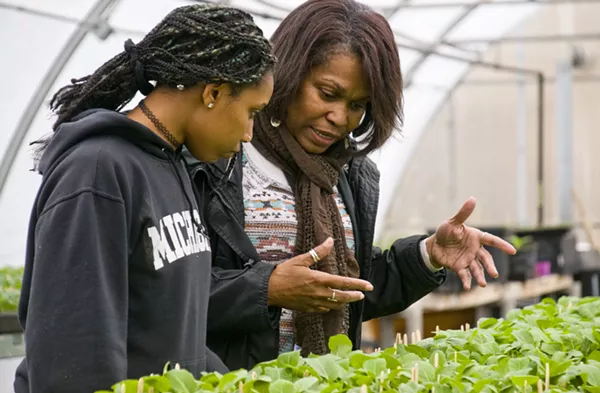 Do a Google image search for the word "farmer" and nearly all of the pictures that pop up are what people typically imagine as the stereotypical "Old MacDonald" — a man in a plaid shirt and big, denim overalls whose face is shaded from the sun by a large straw hat or green John Deere baseball cap.
In southeast Michigan, that picture is no longer accurate, as more and more women are involved in farming, especially on urban farms in Detroit and other cities. "When you think about farming, the first picture that comes to mind is not of a woman, and definitely not of a black woman, so that's something that's new," says Marilyn "Nefer Ra" Barber, coordinator of the Earthworks Agricultural Training Program (EAT) with Earthworks Urban Farm on Detroit's east side.
That is a trend that has been playing out for several years — the U.S. Department of Agriculture's five-year farm census found that between 2002 and 2007, the number of Michigan farms managed by women increased by 40 percent to 8,275. That figure dropped slightly in 2012, which coincided with a significant decrease in the overall number of farmers nationally. But those in the industry say they expect the figure to bounce back up in the 2017 census.
Interestingly, only 5 percent of Michigan farms run by women produced more than $100,000 in sales in 2012, indicating that most are managing small-scale and urban operations. Those formats are playing a bigger role in food supply as concepts like food security, local economies, food access, and fresh food factor into our decisions at the grocery store.
The shift's timing is also good for those who are taking up farming outside metro Detroit as a generation of older male farmers are hitting retirement age and their kids aren't following in their footsteps.
"A lot of children who grew up on farms tend not to want to farm," says Dana Voorheis, manager of the Women in Agriculture Farm Development Center in Grand Blanc. "Women are seeing that there's a need and saying ,'Yes, I can do that.'"
There could also be another reason for the increased numbers. Bee Wise Farms' Lacy Ingrao points out that the definition of "farming" is changing. Now that small-scale farmers are getting the respect they deserve, they are labeled "farmers" instead of "hobbyists."
Those who spoke with me say that men, very generally speaking, are involved in large-scale farming and industrial agriculture. Women in the field, meanwhile, are typically more motivated to grow for reasons involving health and community. One approach fits in with American capitalism, while the other is more about the community, with an emphasis on local economy. As Voorheis — who received an education in forestry before she saw the opportunity in farming and headed in that direction — puts it, "Women seem to be a lot more concerned with nutrition and healthy food."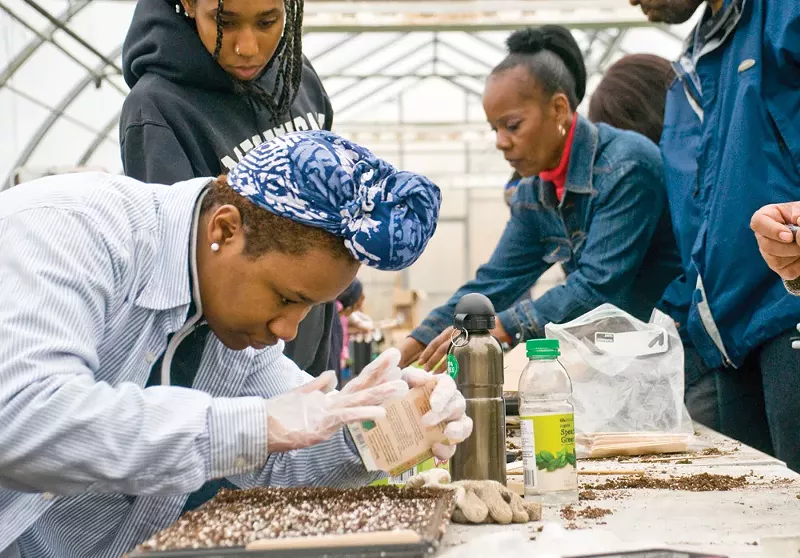 While working for Food Gatherers in 2008, Stefanie Stauffer started thinking more about issues like food security, sustainability, public health, access to food, and "how food costs can really make or break someone's existence." Around that time, she tended a small plot on Ypsilanti's Frog Island Park before later expanding on Voss Farms in Ypsilanti Township, and then moving to Tilian. The shift from a nonprofit to full-time farming made sense, she says.
"A lot of people come out of the nonprofit field, which is dominated by women, especially in the food sector ... and farming is something in which they feel like they're having a direct impact," Stauffer says. "Maybe I'm talking from experience. It's hard to generalize, but I know that that's what happened for me."
She also tends her own plot, and is growing 88 varieties of heirloom tomatoes, 55 types of hot peppers, bok choy, and more. Her produce ends up in local farmers' markets as well as restaurants like Detroit's Supino Pizzeria and Chartreuse, and she uses her leftover produce to make some of southeast Michigan's best hot sauces under Nightshade Farm Industries.
The same motivations drive those urban farmers and gardeners who are working at the neighborhood level. Myrtle Curtis started planting in 2009 with a simple desire to beautify the Jefferson Chalmers neighborhood and better manage her family's health and diets. But the Feedom Freedom Growers, which is a partnership between her and husband Wayne Curtis, quickly evolved into a larger community building project that also includes work in the arts and conflict resolution. It's now a neighborhood center that takes on issues related to food security and public health, and Curtis says the women who stop by her garden to learn are motivated by the same issues. "They do it for their health, and they want input because they want to help their families, they want to eat healthier, or they want to beautify their space," she says.
This year, the Curtises' field holds blueberries, apple trees, grapevines, herbs, strawberries, beans, peppers, tomatoes, and different flowering bushes for bees. Some of that goes into the Cook Fresh Workshop that Curtis now runs, and Feedom Freedom Growers is also a part of a seven-organization study to measure the impact urban agriculture has on inner city obesity and kids' health.
Nefer Ra Barber runs a similar program on two acres at Earthworks Urban Farm, which is part of the Capuchin Soup Kitchen. On a recent afternoon, she taught a group of men and women how to pick out and plant basil seedlings inside Earthworks' hoophouse.
The group is in the early stage of the nine-month EAT program, which offers an opportunity for low-income residents to learn how to plant, grow, sell, harvest, can, and cook their own food. Later in the year, Barber will teach the students to harvest, and the produce will be sold at a farmers market in the Earthwork's parking lot.
The Capuchin Soup Kitchen takes the extra produce that isn't sold or used for its program, but EAT is a far more successful approach. The Capuchin Soup Kitchen feeds people two meals, but, through the EAT program, they learn how to grow so they can cook for themselves.
"What's rewarding about this is not only can I grow my own vegetables, I get a chance to help others grow," Barber says. "The saying is, 'Feed a man fish, and he'll eat for a day. Teach a man to fish, then he'll eat for a lifetime.' That's how I look at what I do."
On the two-acre Bee Wise farm just outside Lansing, Lacy Ingrao and her partner, who is pursuing a doctorate in entomology at Michigan State University, grow fields of flowers like dahlias, bulb plants, and irises. They also manage 25 hives in total, several of which are on their own plot, which they lease from a land bank.
Like others, Bee Wise possesses an intentional social mission and offers one of the more unique programs, Heroes to Hives. It's a nine-month course that teaches combat veterans the ins and outs of beekeeping so they can pursue a career or hobby. Bee Wise also runs several youth beekeeping programs.
While it's clear that more women are involved in farming, their move into a male-dominated field isn't simple. Just like there are issues around sexism in other trades, women encounter varying forms and degrees of misogyny, depending on the type of farm. For example, Barber says men are especially eager to tell women how to do something in the field, which, of course, assumes they need direction.
"When you see a woman on a tractor it's, 'Oh you don't know what you're doing.' But when a man rides a tractor nobody says, 'He doesn't know what he's doing,' so you always have to prove yourself,'" she says. "With women, it's always having to prove you're more than a pretty face."