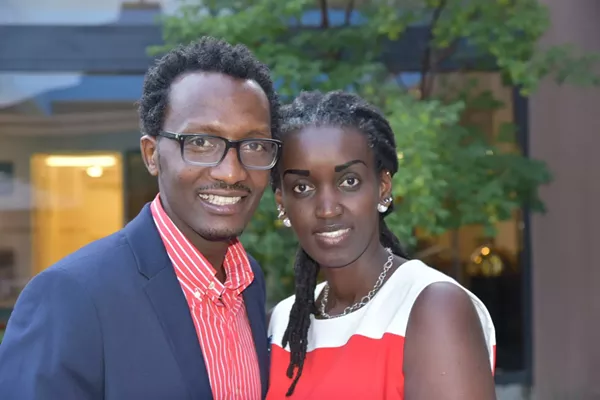 In 2013, as political violence in Burundi grew, the Tutsi minority suffered persecution under the Hutu-led government, and hundreds of thousands of Burundians fled the country.
Many landed in neighboring East African nations, but Nadia Nijimbere looked to Detroit. Her sister-in-law previously fled violence and civil war in Burundi in 2009, and received shelter and support from the Detroit Freedom House in Southwest. The temporary home for victims of political violence who are seeking asylum appeared to be the best of her limited options, so Nijimbere left for Detroit in 2013. Upon arriving at Freedom House, she learned she was pregnant with twins.
"
It was kind of hard arriving to a place where you don't know anybody. But I knew at least I got to a safe place," Nijimbre tells Metro Times. "Freedom House is my forever family. They helped me as much as they can, and got me everything a pregnant woman could need."

In 2015, her husband Hamissi Mamba joined her, and the newly united family began putting together their new life in Detroit — one that now includes plans for Baobab Fare, an East African restaurant, market, and juice bar on the city's east side.
It's an ambitious project for two recently-arrived asylum seekers who knew next to no one and didn't speak the language well, but the couple says that they're determined to give back to their new home and show other refugees that they can "dream big" here.
When Nijimbere arrived, she found work as a housekeeper before taking a job as a caregiver. Mamba set out to look for work only to find that his Burundian degree in business administration wasn't worth much here. He took a job at a factory before finding employment with a hired car company, but he says he felt the couple could do more.
"No one valued my degree, and the only job I found I could have is in a factory," Mamba tells
Metro Times
. "I worked there for months and I realized 'You can do better. You have somewhere else you can be.'"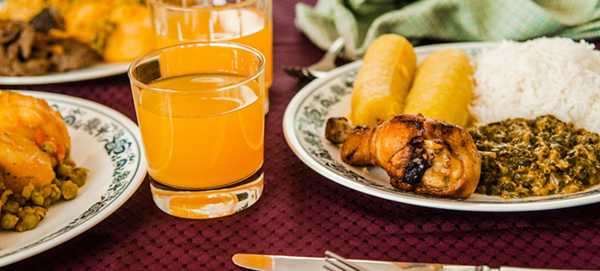 Nijimbere says the couple began "
talking about our future, and asking 'How can we do something big, and dream big?'"

"We started talking about our culture. What can we offer to Detroit? Detroit gave us hope and a second chance to live," Nijimbere says. "Why can't we do something that can make a name in Detroit, do something to build a community and our culture?"
At the time, Mamba had just completed an entrepreneurial training program with Southwest Solution's ProsperUS, and began considering businesses that the couple could open that would impact Detroit.
An East African/Burundian restaurant could do just that — and is something totally new in the city, Mamba says.
"I had a bunch of ideas of businesses, but this one came out because we don't have East African restaurants in Detroit," he says. "Every business I wanted to do, somebody else had done, but not this. This is the right one. We are going to have local people who are going to discover the food, culture, and everything about Burundi."
But there's another important social component to Baobab — it will demonstrate to the refugee and immigrant community that entrepreneurship is possible, and the couple will hire other other refugees from the Freedom House.
"This can be a second chance for [refugees]," Mamba says. "If you're a refugee, then you have to start your life over. If I start a business, a refugee sees that … and says 'Why not me?' There's that kind of a fear that refugees have, and we have to take that fear out."
As of now, the couple are looking at a spot in the West Village, though that's subject to change should a better location surface, Mamba says.
And the plans are still in the early stages. Mamba says Baobab is starting to raise capital, and as part of that effort entered the Hatch competition. The restaurant is now one of four finalists for the $50,000 first place prize.
On Tuesday, Baobab is hosting a pop up dinner and vote drive at Corktown's Brooklyn Street Local from 6 p.m. to 9 p.m., and it's sure to provide some new flavors in Detroit. As Mamba explains, the manner in which Burundians go about cooking and preparing meals is different than in the U.S.
"The concept is different because the way people live and eat here, and live and eat in Africa is so different," he says. "We don't have refrigerators there, so we cook every single day. We go to the market, buy food, and cook, then eat. We do that every single day."
Since there isn't a lot of money to buy oils and ingredients for cooking, a lot of the simple dishes rely on spices grown on families' land. Mamba describes them as flavorful spices, but not hot.
Dishes are heavy on vegetables like g
reen pepper, onion, tomatoes, garlic, and celery. That's cooked with lemon and spices like white pepper, black pepper, curry, cumin, oregano, and garam masala.
The menu for Tuesday's pop up buffet includes Rice Pilao (spiced rice with beef and veggies), coconut rice, Burundian yellow beans, African vegetable stew, spinach with peanuts, marinated chicken and onions, served with boiled and fried plaintains, ginger-passionfruit juice, and African tea. The buffet is $10.
Visit Baobab's website
here
. A Facebook page for the event is
here
.