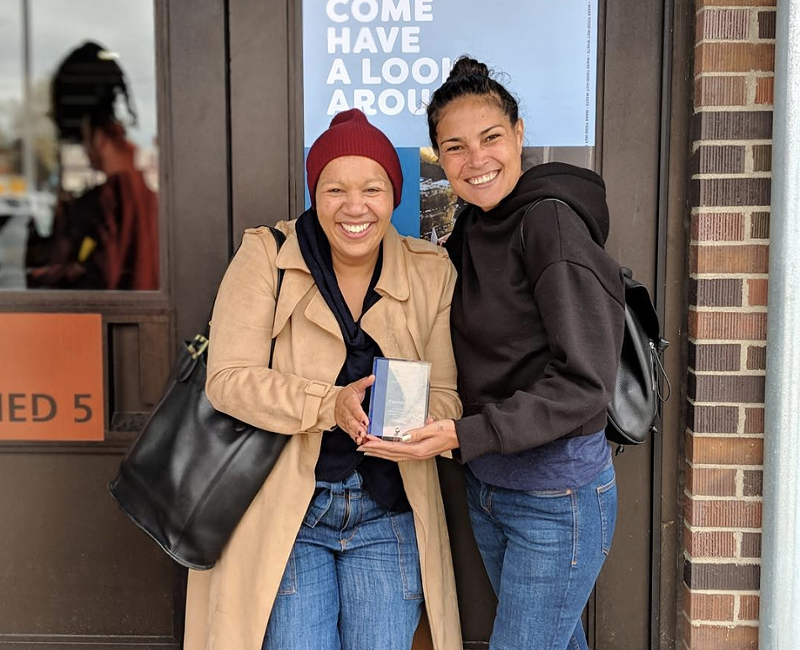 Among the things that make Detroit's food system great is the generally high level of dedication to ensure that there
is
fair representation and inclusivity in it, as well as food security across the entire community.
Each year, the Detroit Food Policy Council honors with the Food Power Awards those who are putting in the work to continue improving the food system, and whose businesses and missions include an effective social component that considers those issues. The DFPC announced this year's winners on Sunday.
DFPC executive director Winona Bynum says the awards are meant "to recognize and lift up the work of the people and organizations who are doing the vital and often hard work of moving Detroit's food environment towards one that serves our community well."
"We wanted to create a space and time to stop and celebrate the good that is going on in our community," Bynum added. "Really, the inscription on the award says what we're recognizing — 'For outstanding contribution towards nurturing the development and maintenance of a sustainable, localized food system and a food secure city of Detroit.'"
The nominees for each category with the exception of "community choice" are selected by current or emeritus DFPC council members. Community members vote on community choice, and this year saw a three-way tie in that category among the west side's D-Town Farm, Southwest's Pizzaplex and Bianca Danzy, who operates Real Food by Bianca.
This year's winners are as follows. All bios are by DFPC.
Individual: Deirdre Hope
"Deirdre Hope started as the Michigan State University Extension Wayne County Master Gardener Coordinator in early 2016. The primary focus of this position is to facilitate education of the general public on sound horticultural gardening practices through Extension Master Gardener classes. After many hours of planning and negotiations she was able to partner with Detroit Public Schools Community District to hold an Extension Master Gardener course in Detroit for the first time in at least 7 years. Of the 60 registrants of the Detroit course, more than 65% expressed a desire to grow food and support food security in Detroit. Deirdre was also instrumental in bringing the Extension Master Gardener (EMG) information table back to the Eastern Market on Tuesdays in the summer. The purpose of the Eastern Market information table is to give Extension Master Gardeners an opportunity to interact with the public and educate them on science based gardening practices, many times, focusing on food production in the home garden. Deirdre has also nurtured many relationships in Detroit including, Detroit Blight Busters, Cass Community Services, Detroit Abloom, Belle Isle, Charles R. Drew Transition Center, and Earthworks."
Non-Profit Organization: FoodLab Detroit
"FoodLab Detroit is a membership - based nonprofit organization dedicated to providing a community of 200 locally-owned food businesses with visionary business development, connectedness & belonging to a supportive community of like-minded food entrepreneurs and access to conscious capital that entrepreneurs needed in order to grow sustainable food businesses. FoodLab Detroit works to strengthen Detroit's regional food system by creating a new food economy that acknowledges the importance of justice, community representation, and sustainability. The organization is an example of the success which comes from applying a community-based approach to issues of food injustice."

Business: Avalon International Breads

"Avalon International Breads is a small family of bakeries and cafes in Detroit that is committed to sourcing organic and local ingredients where possible, preparing from-scratch delicious foods, practicing low waste practices, encouraging leadership and promotion from within, and building a strong, healthy, and equitable community through food. Avalon also supports local organizations that share their passion including Keep Growing Detroit, Alternatives for Girls, Detroit Food Summit, Detroit Food Academy, MOCAD, Detroit InsideOut, Crash Detroit and others. Throughout its 21 years in Detroit, Avalon has made a commitment to use 100% organic flour in everything they make, from their Signature Sea Salt Chocolate Chip cookies to their Farnsworth Family Farm Bread. In all ways, Avalon tries to stick to its purpose to nourish and inspire the community to eat well and do good."
Sustainability: The Farmer's Hand
"Located at the corner of Bagley and Trumbull Avenue in Detroit's Corktown neighborhood, The Farmer's Hand is a gourmet grocery and take-out counter. They primarily source from the state of Michigan, with 100 percent of products sourced from small-to-midsized food partners that maintain ethical, sustainable, humane food practices. Owners Kiki Louya and Rohani Foulkes work to strengthen the relationships between their shoppers and the sources of products they consume. The Farmer's Hand also has a small take-out counter offering easy, grab-and-go breakfast and lunch items including seasonal, gluten and vegan options, tea, coffee, and pastries as well as award-winning regional cheeses and charcuterie to take home or have specially catered."
Youth: Calli Brannan

"Calli Brannan is the founder of One More Meal, a pilot food rescue and donation program for food insecure children and families. She is preparing to launch this pilot program in several schools, focusing on taking leftover food in the school systems and turning it into a take home meal for kids who might not get a meal at home. She includes the kids in the process, gaining their respect and developing their understanding of the importance of the program as they will be helping to package the meals and educate the other students in their school. Along with this she is a current Program Instructor for Michigan State University Extension, where she spends her days in the community teaching residents about how to include more fruits and vegetables in their diet, as well as food resource management and gaining the knowledge of the food resources around their community. Calli is an active member of the community, always looking for a new way to improve food security and make Detroit healthier."
So many restaurants, so little time. Find out the latest Detroit dining news with our weekly food newsletter delivered every Friday morning.