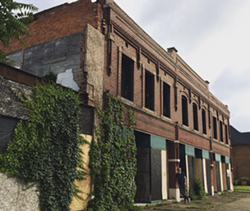 A new restaurant/butcher shop called Marrow will open in the spot that was to hold the Geiger Eat Shop.
The Detroit Free Press reports
that the new project will be a partnership between Geiger's Greg Reyner and The Royce Detroit wine bar's Ping Ho. They're enlisting former Parks & Rec and Republic chef Sarah Welch to run the kitchen.
Reyner told the
Freep
he found himself overextended after opening a second Atomic Chicken location in New Center last month, and began looking for a partner.
"I realized I couldn't necessarily do this on my own, and I wanted to bring a partner in," he said.
Ho, who opened Royce in Grand Circus Park in August, said the idea is to offer a neighborhood butcher shop/restaurant that trades in local, sustainable meats. The butcher shop will double as a deli counter at lunch, and the dinner menu will hold small and large plates.
The group is targeting a late-2017 opening.
It'll be the second butcher shop-restaurant in Detroit, as Prime + Proper is
expected to open in the coming months
.