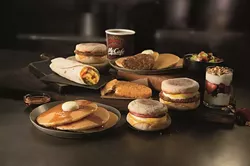 Metro Detroiters, our moment has finally arrived when we'll get to join the growing number of other regions in the country to enjoy (or groan about) McDonald's breakfast, anytime of the day. The nationwide launch of the chain's all-day breakfast offerings is set to launch Oct. 6, but we'll get a sneak preview Tuesday when the beach at Campus Martius is turned into a perennial napper's paradise. Between 11 a.m. and 2 p.m., Micky D's reps will be passing out free sausage burritos, apple oatmeal McCafe muffins (NOT of the egg-ey, cheesy Mc variety, but rather the ones of the sweet, fresh-baked nature) and coffee to 1,000 passersby. The popup crew will also give away McDonald's aviator sunglasses, sleep masks, coupons and decorate the beach with Golden Arches-themed beach balls and seating.
A few things to know about how the all-day menu will play out across the country. McDonald's has divided regions of the nation as either McMuffin states or biscuit states. Michigan, like many other northern states, is considered a McMuffin state, meaning you'll be out of luck if you're craving, say, a bacon, egg and cheese biscuit past the normal 10:30 a.m. (11 a.m. on weekends) breakfast hours. You'll also only have the option of a round egg, rather than a folded "scrambled" egg (full disclosure, your humble scribe's first job was at a McDonald's in suburban Los Angeles. Insider's note, round egg=a real, cracked egg. Folded means it came from a mix in a carton). Other all-day breakfast items will include hotcakes platters and sausage burritos.
McDonald's daylong breakfast roll-out comes after years of lost interest in the fast food chain. Despite sprucing up its menu offerings, people just aren't flocking to the Golden Arches like they used to. This latest attempt at attracting customers could work to bring in the night owl types who routinely miss out on the McMuffins, Deluxe Big Breakfasts and other items because they simply can't roll out of bed in time. McDonald's brass say that all-day breakfast is the All Day No. 1 request from customers. Last year alone, more than 120,000 people tweeted McDonald's asking for breakfast throughout the day in the past year alone.
Check out this infographic for more on the evolution of McBreakfast: